Group Warns Ngige, APC Against Arm-twisting INEC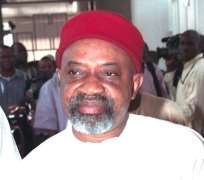 A civil rights advocacy group, the Forum for Positive Change has slammed Senator Chris Ngige, the APC candidate in the Anambra poll as well as the APC for what it described as a "calculated effort to arm-twist the Independent National Electoral Commission (INEC) in order to gain a backdoor entry into the Amawbia Governor's Lodge for the second time in ten years."
Addressing a section of the media in Awka early today, the President of the group, Barrister Okechukwu Chinweze warned that the people of Anambra State would not live to see a brazen supplanting of their collective will as reflected in the voting patterns that emerged from the polls last Saturday.
According to him, the Forum for Positive Change has followed developments in the Anambra election for years and sees the avoidable gaps that led to the suspension of polling in the Idemili area of Anambra State as part of a larger ploy by the APC candidate to create doubts about the electoral process and discredit INEC.
"We are familiar with Senator Ngige and the sad history he has established in Idemili. He has always used Idemili to cast doubts on any electoral exercise in Anambra State. You may recall that Uke town, where a stampede claimed 26 lives last week is located in Idemili. So, it is not a coincidence that Idemili is in the news again for the wrong reasons. Everyone knows that what is behind it all is the influence of the APC candidate. But we shall resist him with the last drop of blood in our veins," Barrister Chinweze warned.
According to Barrister Chinweze, the Forum for Positive Change had prior to the election, warned of a plan by the APC elements in the state to create credibility problems for INEC. "My men picked up information that there was a plan by APC to impugn the electoral process days before the election. We picked up intelligence report that some of the NYSC members who conducted the polls yesterday were approached with large sums of money by APC agents to slow down the electoral process by making sure that electoral materials were not delivered to the polling units on time. They figured that if the materials were not received on time, APC would have established a case against INEC."
The Ogbunike born Lagos-based civil rights advocate wondered why Senator Ngige should turn his Idemili zone into a flashpoint of electoral malcontent in Anambra State querying, "Is there something peculiar about Idemili beyond the fact that Senator Ngige is from Alor in Idemili? We monitored this election and I can assure you that INEC has done a fairly good job. There may have been delays in some places in terms of the arrival of logistics but overall, the process has been largely peaceful and free and fair from the point of view of the Forum for Positive Change," he observed.
"The question that Ndi Anambra should ask is; why is Idemili the only place with all these complaints? It is on receord that 23 candidates contested this election. These 23 candidates have places they come from and demographics that they control. How come it is only in Ngige's place that INEC could not conduct an election? Is there something else that APC wants us to know about this election?" the civil rights advocate queried.
Barrister Chinweze however warned that his group would mobilize all progressive-minded people of Anambra State to resist any attempt by APC to supplant the will of the people in the poll. "Thank God for social media, most results of this election are in the public domain already. We shall not accept any attempt to change the story of this election from what actually happened on the field. We are watching. The world is watching too", he declared.
Frowning at what he described as the "wholesale importation of the culture of irrational dissent and violence that have characterised APC" into Anambra State, barrister Chinweze advised that "Somebody should please tell Senator Ngige and his APC backers that we do things differently in Anambra State. We shall not accept any attempts to impose a candidate or any alien cultures of violence on Anambra State. We shall resist it," he warned.