Rita Dominic Classy Dress To Lagos Fashion & Design Week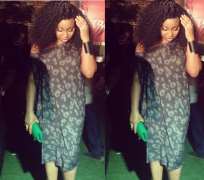 Last week, some guests gathered in Lagos for a fashion event tagged 'Lagos Fashion and Design Week'. The show turned out to be successful, as some delectable stars, especially those in Nollywood added glamour and colour to the gathering.
Unarguably the most stylish celeb in Nigeria, Rita Dominic, in her usual style of seizing people's breathe whenever she storms events, did same when she attended the 'Lagos Fashion and Design Week'.
The classy chic rocked the show in a nice dress with a green bag to match the green carpet. No wonder many men scramble to 'get forms' just to 'see' her.
No wonder she commands respect and class in the industry. No wonder she has remained a big threat to most of her colleagues who are almost tired of digging to know the secret of her dress sense and style. That is why she is the queen of Zamunda.