Tony Nwoye Has Won Anambra Guber Appeal Today
Ndi Anambra Arise, The Peoples' Liberator Has Arrived!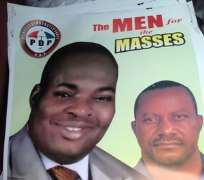 Tony Nwoye is a social crusader and former President, National Association of Nigerian Students, NANS and remains a grassroots' person. He is therefore a product of the liberation movements – agitating for a better society and befitting education.
Under the rain, sun and harmattan he was/is there suffering and pushing for the betterment of the great Nigerian students and peoples' oriented social order.
He has through a well conducted gubernatorial primary by the national leadership of his party emerged the candidate of the Peoples Democratic Party, PDP for the upcoming Anambra November 16th Governorship election.
This has as already been validated by Court of Appeal. Notwithstanding the activities of the evil forces in our politics long holding Anambra people and their posterity down in power opprobrium and disrespect – a new dawn has come with the triumphant emergence of this 'David' against the 'Goliaths' calling for Pan Anambra liberation and transformation, irrespective of party and/or communal divides.
Today, opportunity beckons on Ndị Anambra to elect Tony Nwoye next Governor of Anambra state comes November 16, 2013. Let's vote for he who has laboured, suffered and experienced it all with the masses as "an activist-grassroots' person with distinction"!
Remember that ever before the dawn of the present democratic dispensation in 1999 till date that Anambra has had everything but democratic rule.
Thus, we have little or nothing to show for the dividends of democracy.
All because there has been a big disconnect between the so-called leaders and the lead. For this obvious fact, the grassroots i.e. workers and the masses – are taken for granted in Anambra state and not considered forces to be reckoned with.
To the extent that men and women of ideas especially the young elements are neither taken into confidence, empowered to live a productive life nor given leadership posts in the peoples' "Light of the Nation".
Whereas, in most states in Nigeria [even in Southeast], ideas rule that the youths especially young entrepreneurs and technocrats are not only empowered but are seen providing leadership. We have young governors, commissioners, legislators and so forth encouraged and making leadership every other place in Nigeria but not in Anambra state.
Thus, from the menaces of Godfather politics to the present day milking of the state by friendship circle, we now have gross barriers between the so-called leaders and followers that no one asks for the grassroots impute anymore. Today the same masqueraders "Ndị Ntọ Politics" have regrouped, organizing and re-strategizing packaging and telling their old lies in new forms. Ndị Anambra Mba! Tụfịakwa! It is high time we said NO to Ndị Ntọ Politics. We should not allow ourselves to be divided, again, by their old tricks and new lies.
Ndị Anambra, see in your mind's eyes, a situation whereby the constitutionally provided governance does not work in full in Anambra state to the extent that the third tier of government – Local Government system – has collapsed in our state: Starting with Dr. Chiwoke Mbadinuju [from 2002-end of tenure for all the elected LGA officials] to Dr. Chris Ngige's three years governorship [2003-2006] and throughout Mr. Peter Obi's APGA eight years rule does not augur well for our uniform development and transparent governance.
Be it said: While LGA system, constitutional and transparent governance remain highly cherished for accountability governance and incorruptible service delivery. Not having them is condemnable and a heinous crime against the good people of Anambra state and can never be wished away by any wishful thinking or flimsy excuses!
That somebody undemocratically and unaccountably ruled and spent LGAs allocations unevenly and un-transparently for a whole two terms. Also planned LGA election several times preparing, duping and impoverishing the aspirants several times only to slate doing it [tentatively in December 2013] at the eve of his departure is gross direct and indirect indictment of self and his party and acceptance of his party's failure of governance. Yet we are hearing Continuity of the same party's policies?
Whereas, Local Government system, the nearest government to the grassroots and grassroots driven governance that brings about massive development and civilization has eluded Anambra people for a whole 11 locust years. We cannot allow ourselves fooled anymore by those laying claims to "continuity" or "experience" that never was.
It all implies that there will not be constitutionally elected local government system and transparent governance, if either of those laying claims to 'continuity' and 'experience' that never was are elected - since it was not in their tradition to provide and/or have democratic LGA system, constitutional and transparent governance in place.
Therefore, as it goes: "Fool me once, yours fool; fool me twice, mine"; it is instructive for the Anambra people to say A RESOUNDING NO to the leagues of those, in and out of power, who have denied us genuine democratic regime and its dividends including democratically elected local government [leadership] system.
Arise, oh Anambra electorate! You should not allow them to fool you again with their old tricks and new lies no matter how they scheme using our stolen public funds attempting to buy
your children's children's future and purchase your votes! Today, opportunity beckons on Ndi Anambra to elect Tony Nwoye as the next Governor of Anambra state comes November 16, 2013. Let's vote he who has laboured, suffered and experienced it all with the masses as "an activist-grassroots' person with distinction"!
No matter how this Ndị Ntọ Politics re-garments their 'old tricks', 'new lies' and 'cheap politics', we must this time around stand firm to RECLAIM our Light of the Nation State 'Anambra' from their evil grips. Ndị Anambra, remember November 16, 2013 Anambra Governorship election falls on both Pa Nnamdi Azikiwe's and Chinua Achebe's birthday!
Let's use our votes to make a new beginning in constitutionalism and democratic alternatives in Anambra state building on our ancestors' vision by voting-in Tony Nwoye for Anambra Governor 2014.
Vote Comrade Tony Nwoye, Peoples Democratic Party candidate, for governor.
Vote wisely for a change agent, social resurgence and accountability governance we dearly needed! Vote for Tony Nwoye! Vote for your children's children!
Ndị Anambra, arise! The peoples' liberator has arrived! He is Comrade Tony Nwoye – Comrade forever! Onye Eze Nnọọ! To get leadership and democratic dividends right in Anambra State, be party to electing the history making governor by voting Tony Nwoye for governor come November 16th.
Beware of Ndị Ntọ Politics! Let's rebuild with good faith, integrity and intelligibility for grassroots driven leadership, economic revolution, transparent governance and service delivery.
Vote Tony Nwoye for Governor, vote for a positive difference! Tony Nwoye! Ndị Anambra Ta Bụ Gbooo!
Mazi Okwu Okwu
Pharm Ikeagwuonwu klinsmann
Mazi Orjika Chidi
Hon Ikechukwu Onyia
ICT and COMMUNICATION UNIT
TONY NWOYE CAMPAIGN ORGANISATION