Goldie's Husband, Andrew Harvey Set To Marry New Lover?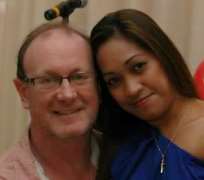 Barely under a year Goldie Susan Adebimpe Harvey bid this world goodbye, her husband, Andrew Harvey is set to marry another woman whom, we learnt, he started dating a month after the demise of the talented artiste. Isn't that too quick?!
The late Goldie's ex-husband Andrew Harvey is in a relationship again and has been in a relationship with the lady since March 2013, Goldie died on February 14, 2013!
Andrew, is dating the Malaysia-based Philippine woman named Beth Buenaventura. Harvey was said to have moved to Malaysia a few years ago when he got transferred to the Asian country.
The couple have been making several trips to different countries in the Asian continent including Singapore, the Philippines and China.
On August 3, Harvey celebrated his birthday at the at Pavilion, Kuala Lumpur. He later posted photos of themselves kissing. Buenaventura is seen to be wearing a ring on her left hand. It is unclear if they are engaged.
Meanwhile, Goldie family, Nollywoodgists.com gathered, has said the man is not from this part of the world, obviously he doesn't have an idea of what our culture is all about.
They are just pained that Mr. Harvey has removed all Susan's pictures on his facebook; nothing to remember about his wife.
>

Andrew Harvey and Late Goldie
Click the link below to go to...
Goldie Harvey To Be Buried Today + Harvey, Goldie's husband touching his late wife [PICTURES]
AUTOPSY REPORT REVEALS GOLDIE HARVEY DIED OF HYPER
Denrele's Emotional Tribute To Goldie
Goldie`s Family Says Police May Go After Denrele
Goldie's Hubby, Andrew Harvey Opens Case On Prezzo 'He's Too Manipulating, She Despised Her And Distanced Herself'
GOLDIE IS DEAD: Kennis Music's Keke Ogungbe Sympathises With Goldie's Family
Tragedy! Singer Goldie Harvey Is Dead!
Pictures Of Goldie's Husband, Andrew Harvey
Goldie's Death: Prezzo Heads To Lagos
Goldie"s Official Cause Of Death
Celebrities React To Goldie's Death On Twitter