PDP Crisis: Why Peace Talks Were Postponed-Anenih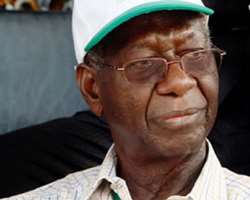 Chairman of the Board of Trustees (BoT) of the Peoples Democratic Party (PDP), Chief Tony Anenih, has said the peace talks, scheduled to continue yesterday in Abuja, were postponed at the request of the aggrieved governors of the party who stormed out of the venue of the party's special national convention on Saturday.
Anenih said that the peace talks with the aggrieved governors would now continue on Tuesday, next week, after selected party leaders would have met with former President Olusegun Obasanjo on Friday as part of wider consultations demanded by parties to the crisis.
He disclosed that the aggrieved governors told the Presidency and the PDP leadership that they needed more time to make wider consultations, just as he said the Presidency and the PDP leadership were not averse to wider consultations.
He explained that the Presidency and PDP leadership were taking advantage of the postponement to also consult widely on how to amicably resolve the crisis.
According to him, 'Part of the wider consultations is the meeting of selected party leaders with Chief Olusegun Obasanjo on Friday morning and thereafter, we will meet with the governors on Tuesday, next week.'
The BoT chair, who read out the resolution of the marathon meeting that held in the Presidential Villa from Sunday night till the early hours of Monday, expressed optimism that the problems would be resolved and the aggrieved governors who broke away from the convention venue to announce a faction of the party, would come back.
'I believe some of them have genuine grievances; but I have hope that, once the grievances are addressed, they will come back.  I am happy that the PDP has an internal mechanism for effective conflict resolution, and at the end of the day, the problems will be addressed and the PDP will come out of the crisis stronger,' Anenih stated.
At the end of the marathon meeting, which ended about 2.05 am on Monday, Anenih had read a short resolution of the meeting to the hearing of the PDP governors, including four of the aggrieved governors, who attended the meeting to set the stage for the continuation of peace talks which were scheduled for yesterday.
The outcome of the meeting: 'The resolution of Mr. President, the leadership of the party and the PDP Governors meeting today the 1st of September, 2013, to discuss the incident that occurred during the PDP special convention of 31st August, 2013, whereby some State delegations broke out of the convention ground to announce a faction of the PDP.  The meeting was encouraging and smooth and the discussions will continue on Tuesday (September 3, 2013) with all the aggrieved Governors in attendance.'