Suntai arrives in Nigeria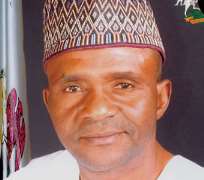 Taraba State governor Danbaba Fulani Suntai today arrived in Nigeria, exactly 10 months after suffering serious injuries arising from an air crash near Yola.
Suntai touched down at the Nnamdi Azikiwe International Airport a while ago, and boarded a reconnecting flight to Yola.
A Cessna aircraft Suntai was piloting crashed on October 25, 2012, injuring the governor, his Aide de Camp (ADC), and a few others.
Suntai was first flown to the National Hospital, Abuja, and then to Germany a few days later. Early in the year the governor was transferred to a medical facility in the United States, fuelling speculation he may never return to Nigeria.
Suntai, who was accompanied by family and friends, declined to speak to reporters.
Pointblanknews.com gathered that thousands of Suntai's supporters, including several appointees, have besieged Yola airport to welcome him.
Details coming.