Acceptance Speech Of Governor Henry Seriake Dickson On The Occasion Of The Inauguration Of The Peoples Democratic Party (PDP) Reconciliation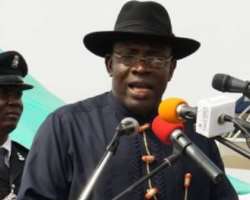 ACCEPTANCE SPEECH OF GOVERNOR HENRY SERIAKE DICKSON ON THE OCCASION OF THE INAUGURATION OF THE PEOPLES DEMOCRATIC PARTY (PDP) RECONCILIATION  WITH GOVERNOR DICKSON AS CHAIRMAN HOLDING ON 25TH  JULY, 2013 AT WADATA HOUSE ABUJA.
On behalf of myself and members of this auspicious committee, let me thank the National Chairman of the Peoples Democratic Party (PDP), Alhaji Bamanga Tukur and the entire National Working Committee (NWC) for setting up this committee and for giving us the opportunity to serve our great party through this committee. We have accepted to serve our party in spite of the existing responsibilities that we have because our fundamental objective in politics is service to humanity even when it is inconvenient and hazardous.  Indeed our party and nation are facing hard times and as such, patriots must rise to the occasion to render selfless service. Mr. Chairman, this is exactly what we have done by accepting to serve on this committee.
2.  The stability of our nation for now depends on the stability of the PDP and this as a result of our party's spread and its unbroken hold on power in the last 14 years. Your party, our party remains the strongest centripetal force that can hold our diverse country together irrespective of the threat to our very existence as a people.
3.  At no time in our history has our nation's unity come under sustained and severe attacks as it is now. Mr. Chairman, instead of building a political platform for the unity and development of the country the way our party is doing, the centrifugal forces are exploiting our diversity to expand the attacks and even making political capital out of them. Let me stress here that the PDP is the only political platform from pre-independence till date that has made it possible for a so called minority to win presidential ticket and general election as President. This is not just victory for PDP but victory for Nigeria. I congratulate the PDP and Nigeria.  This was possible because you the founding fathers of our great party had envisioned an all-inclusive political party to achieve national cohesion and unity.
4.  A large platform like the PDP cannot be devoid of several tendencies, conflict of interest and all manner of crises. But as democrats, we must evolve ways of appreciating them and resolving crises within the party without stifling people. I think this is what you have done by setting the reconciliation committee.  But all players in the political and non-political field must play by the rules of engagement. We must play the game within the ambit of national interest and not denigrate or destroy our institutions whether it is the office of the President, judiciary, legislature, military and security services, professional bodies, media, traditional and religious institutions.
5.    Mr. Chairman, let me once more thank you and your NWC for appreciating the need for peace and  reconciliation in our party.  I am aware that there is an on-going reconciliation effort of the committee led by the BoT chairman of our party, Chief Tony Anenih, CFR. Similarly, I am also not oblivious of the work done by the Dr. Alex Ekwueme  Committee and others. At the PDP governors level, reconciliation is going on. My take is that these efforts should be supported by all and sundry.
6.   My understanding of our mandate therefore, is to facilitate the reconciliation of our members and leaders in target states particularly non- PDP states and provide the template that will make our great party organize credible primaries and select candidates for elections. My committee will also facilitate closer interaction with the PDP caucus in the parliament, know their problems, challenges and brief you and the NWC. In addition, this committee will support and work closely with the Chief Anenih committee set up by the BoT and others
7.  For our party leaders, aspirants and members in states controlled by the opposition, I urge you to take advantage of this committee and work with us to make our party stronger. It is the party, and only the party that wins election; no individual has the capacity to single- handedly win election. To us, the party is like a race horse, anybody can ride once it is strong.  So we call for your support to ensure that  the party is strong and
vibrant for use by all Nigerians.
9. Mr. Chairman, there is no doubt that this national assignment you have handed us is a challenging task but I am confident we shall succeed in delivering on the terms of reference because I have on this committee, experienced patriots who have accomplished so much in their chosen careers.  Let me assure you that this committee will routinely brief the NWC, party leaders and the relevant organs of our party. Please keep your doors and heart wide open for us.
10. Finally, I thank the National Chairman and the NWC for the confidence reposed in us. Our promise is that we shall not let you down. As a party, we must be credible, discipline, fair and firm and improve our mechanism for internal democracy for the selection of party candidates and for the benefit of reconciliation to be made manifest and sustainable.
Long Live our Great Party, PDP! Long Live the Federal Republic of Nigeria!!