Constitution Amendment: Chaos As Electronic Voting System Fails, Reps Vote Manually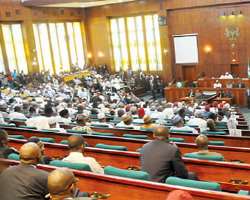 ABUJA, July 24, (THEWILL) – Contrary to the assurances of Speaker Aminu Waziri Tambuwal that voting on the constitution amendment would be done through the electronic voting system, voting was today conducted manually, THEWILL can report.
The much-advertised electronic system installed by the Nigerian Communication Satellite (NIGCOMSAT) collapsed forcing the lawmakers to vote using pen and paper.
The House had on Tuesday at an executive session test run the electronic software with members receiving briefing from the Director General of the Nigerian Communication Satellite (NIGCOMSAT).
However, when the members reconvene today in plenary to vote through the electronic device, it failed and all attempts to make it work were abortive.
The vote to amend the 1999 Constitution has just ended and collation is on going.
More soon.