Miss Nigeria 2013 Winner, Akudo graces sister's wedding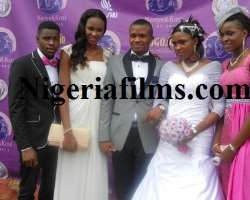 Amid style and glitz, Miss Nigeria 2013 Miss Ezinne Akudo Anyaoha over the weekend in Owerri the capital of Imo state, attended her elder sister's wedding in style.
Akudo who was accompanied by her first runner up Miss Queen Celestine; one of the contestants at the grand Finale of the event that saw Ezinne emerge the Queen, Miss Adolph Babara and a host of friends; caused quite a stir as she stepped into the church that morning.
The entire congregation turned to stare at the new Queen as she walked majestically to her seat followed by her entourage.
Everything seemed to have paused at that moment." Indeed a natural Queen has emerged".
At the reception venue her entrance was announced in style. She also stepped in elegantly with her retinue.
Almost everyone in Owerri seemed to have attended the wedding to take pictures with Akudo. She spent most of the weekend taking pictures.
According to her, "I feel so loved and happy that everyone here is happy for me and they have actually come to celebrate with me and my sister".
Continuing she said, "I want to see more of these smiles' always especially on women. I am going to use this platform to assist as much Nigerians that I can assist."
"I want to see more women educated and enlightened; I want to see more women empowered this way they can help themselves and their families".
"Educating the girl child is definitely the starting pointing, because a woman trained is a woman empowered, a woman empowered is a woman emancipated, a woman emancipated is a generation emancipated, a generation emancipated is a nation developed".
She says she is willing to partner with different bodies on this project.