Cristiano Ronaldo Will Retire At Real Madrid, Says Club President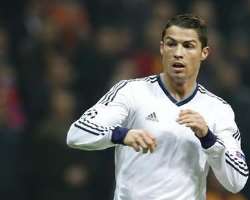 Cristiano Ronaldo will spend the rest of his career at Real Madrid, according to club president Florentino Perez.
The Portuguese forward, 28, has recently been linked with a return to Manchester United or a move to big-spending French club Monaco.
But Perez said: "You can be absolutely certain that Cristiano will retire at Real Madrid."
He added Real have not made a bid for Spurs' Gareth Bale, or received an offer from Arsenal for Gonzalo Higuain.
Argentine striker Higuain has been heavily linked with a move to the Gunners since saying he wanted to leave the Bernabeu at the end of last season.
But Perez insists Arsenal are yet to make a bid for the 25-year-old.
"We don't want Higuain to leave," he said. "What's more, no-one from Arsenal has come to us and made us any offers at all for him. There are no offers on the table."
Though Higuain's future remains uncertain, Perez believes Ronaldo, who has scored 201 goals for the club in 199 games, will be at the Bernabeu beyond the end of his current contract, which expires in 2015.
He said: "Ronaldo wants to retire at Real Madrid, and we want him to retire here, just like [Zinedine] Zidane and so many other great players did."
Wales international Bale, meanwhile, was reported to be the subject of a planned £85m offer from Real after scoring 26 goals for Spurs last season.
Perez said of the 23-year-old: "He is a great player who belongs to a club we enjoy good relations with, but we have not made any offer."
BBC SPORT