THE LOQUACIOUS OYO GOVERNOR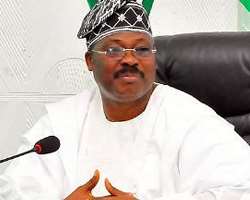 OYO STATE GOVERNOR, SENATOR ABIOLA AJIMOBI
Since Oyo State Governor, Senator Abiola Ajimobi assumed leadership of the Pacesetter State; he has certainly added another negative foible to his already renowned arrogance. Today, the Governor jostles from being a borderline personality to an abrasive loquacious number one citizen of the Pacesetter State. This uncouth trait of our Dear Governor came to play recently at the commissioning of some projects in Ibadan.
At the commissioning of a fly-over bridge in Mokola area of Ibadan-right in the front of the Lagos imperial Lord, Asiwaju Bola Ahmed Tinubu, and some other prominent personalities in the society; Ajimobi's arrogance that had dovetailed into full-blown egoistic exuberance manifested itself.
While Asiwaju Bola Ahmed Tinubu took his time to lampoon Ajimobi's predecessors as failures; he on the hand carried his loquacious tantrums to another level that even astonished his guests. That of course is the characteristic nature of a political neophyte who must denigrate others all for political expediency.
Like the proverbial leopard that can never wash its spots away; Ajimobi's peevishness did not only go to his predecessors alone. He later took on the Chief Justice of the State whose crime is the normal appellation that comes with her name. Even a royal father was not exempted from the vile of Ajimobi's loquaciousness. He spared no words in condemning real and imaginary critics of his nebulous urban renewal program that has done more harm than good.
Instead of finding ways of freeing himself from the cocoon of arrogance he is currently trapped in; the Governor seems to relish and derive joy in his narcissism. Unfortunately, he has become very impatient and reacts negatively to even constructive criticisms of his government. He detests criticisms like a plaque and surrounds himself with sycophants who are making him to think he has become a sort of god with great perfection in governance.
In the process of carrying out his unpopular urban renewal projects, he has succeeded in creating a capitalist Oyo state using the less privileged individuals as collateral damages. To his bandwagon capitalists, he is a hero, while on the hand; he has succeeded in earning a reputation of a sadistic sociopath in the face of the less privileged people in the State.
Instead of finding ways to reduce poverty among the less privileged, he has continued to inflict pain upon pain on the downtrodden masses of the State.
Ajimobi, since he became the Governor has been playing the role of a modern day dictator whose decision on matters of public interest is not only final but remained unquestioned!
As the number one citizen of Oyo State, the hallmark of his government is never submit to any superior intellectual idea. That is why he hardly accommodates in his government intellectual and ideological superiors.
Whatever you think you know as cabinet member amounts to nothing in the world of Ajimobi.
His cabinet members accept whatever he says as final hook, line and sinker. If you cannot serve like a dog under him, then there is no place for you in his government. That is why all the 33 interim local government chairmen in the State are doing his biddings and that of his wife. Unfortunately, he allows himself to be controlled by ego rather than principle. That is why he has accepted to be ruined by praise than be saved by criticism.
The demonstration of his full-blown arrogance not only to his predecessors but to other personalities that attended the commissioning of the flyover bridge at Mokola stands condemned! It is also very unfortunate to see a Governor who has given the generality of people in the State the impression that his government will not be wasteful only to show profligacy in the commissioning that paraded more than three musicians.
Many of the interim local government chairmen also took to radio stations, television houses and newspapers to place either jingle or advertorials congratulating the Governor and his wife for commissioning a flyover bridge and two other projects.
Even in the face poor human economic development bedeviling the people of the State today; the Governor's improvidence on commissioning three projects shows lack of humanity on the part of the Governor.
Lastly, as a Governor who has come of age and which he normally exhibits; he should understands that it comes with a responsibility.
He should control his ego and stops being a flippant elder statesman he wants people to see him because respect is reciprocal.
Written By Alaba Abdulrazak

Disclaimer:

"The views/contents expressed in this article are the sole responsibility of the author(s) and do not necessarily reflect those of The Nigerian Voice. The Nigerian Voice will not be responsible or liable for any inaccurate or incorrect statements contained in this article."
Articles by thewillnigeria.com