Nigerian Chief Of Army Staff Denies Statement On Loyalty To Only Yar'Adua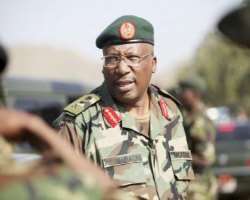 PHOTO: NIGERIAN CHIEF OF ARMY STAFF LT. GENERAL ABDULRAHMAN DAMBEZAU. PHOTO: REUTERS.
San Francisco, Feb 26, (THEWILL) – Nigerian Chief of Army Staff, Lieutenant Gen Abdulrahman Dambazau has debunked a statement allegedly made by him that claimed he was only loyal to President Umaru Yar'Adua.
Action Congress, Lagos Branch Publicity Secretary Mr. Joe Igbokwe in a well-publicized statement on Thursday claimed that Dambazau made the statement earlier in the week.
Director of Army Public Relations, Brigadier General Chris Olukolade in a statement on Friday, said Dambazau did not make the alleged statement.
"The Nigerian Army wishes to state categorically that the claims in that statement from AC are completely unfortunate as they were meant to put words in the mouth of the Army Chief.
"Mr. Igbokwe and those propagating the said statement have not informed their audience of when, where and to whom Gen Dambazau made the statement they now attribute to him with a view to whipping up unnecessary but dangerous sentiment.
"It is disturbing that a number of activists have also built additional unfounded insinuations on this false information to make a series of unfair, inciting, alarming and provocative remarks against the Army to buttress their campaigns lately.
"For the avoidance of doubt, the Army would like to reassure Nigerians that it has not shifted from its commitment to the tenets of democracy and absolute loyalty to constituted civil authorities as consistently emphasized and demonstrated by the Chief of Army Staff.
"It will be recalled that he has in several addresses to troops and in a number of fora such as the Chief of Army Staff Annual Conference in Lagos last November as well as the commissioning of Forward Operating Base in Abuja early this year, emphasized in very clear terms the resolve of the Army to offer unalloyed loyalty and support to democratic order in the country."
Explaining further he said, "Gen Dambazau along with Chief of Defence Staff and other service Chiefs were among the earliest government functionaries to visit and pledge the loyalty of the military to the Acting President on his assumption of office. The call and warning coming from Mr. Igbokwe and other political activists is indeed absolutely unnecessary as no coup or security breach (as they called it) is been contemplated by the Nigerian Army.
"The whole statements therefore amounts to an unfair comment founded on an imaginary statement which did not emanate from the Army's leadership. The persistent insults been thrown at the army and indeed the intelligence of the generality of Nigerians by desperate agitators and alarmists, despite repeated demonstration of the army's commitment to democracy is indeed unwarranted and should stop.
"The army therefore calls on all well meaning citizens to disregard all the alarmist remarks and reports coming from certain quarters as they obviously have interests other than the peace and security of Nigeria.
"Once again politicians and so called activists who thrive on spreading false alarm should please leave the army out of their game plan. The Army remains committed to supporting the practice of democracy, rule of law and submission to constitutional authorities in Nigeria, and would not wish to be dragged into unnecessary controversy meant to cause confusion in the country," Olukolade warned.
The statement was however silent on who gave the orders to deploy more than 300 troops without the approval of the Acting President and Commander-in-Chief on the night President Yar'Adua was purportedly flown in an air ambulance.