Turai: What They Say About Her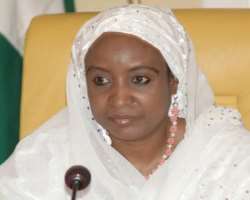 Ailing Nigerian President Umaru Yar'Adua's wife, Turai, has emerged as an even more powerful force after his return on Wednesday from three months of medical treatment abroad and still too frail to rule.
Here are some details on Turai Yar'Adua:
-- Until 2007, Turai was little known outside the remote northern state of Katsina, where Yar'Adua was governor for eight years before then-President Olusegun Obasanjo plucked him from obscurity and helped him win the presidency.
-- She has been transformed from the local girl who married Yar'Adua in 1975 into a glamorous figure who has possibly wielded more influence than any previous first ladies, a cast list that includes some very strong and powerful characters.
-- Nigerian first ladies have often played a role not only in shaping opinions, but in helping decide who should get top appointments and valuable contracts in a country where political patronage is entrenched.
-- Turai usually covers her head in the shawl worn by many women in largely Muslim northern Nigeria. Her quiet public demeanour gives little clue as to the influence wielded by the former school teacher who gave up her job after marrying.
-- Turai's influence increased because of her husband's bouts of illness. He was in an out of hospital even before he was rushed to Saudi Arabia last November. He has not been seen in public since.
-- The first lady was among the staunchest opponents of handing executive powers to Vice President Goodluck Jonathan when Yar'Adua was hospitalised, leaving government decision making in limbo.
-- Turai's control over access to Yar'Adua, who has not even seen the vice-president since his return, puts her in a powerful position as one of the only people to know the true state of his health and what his chances of recovery are.
-- Turai has helped to forge political alliances through family in northern Nigeria, marrying two of her five daughters to serving state governors and another to a member of the House of Representatives. She also has two sons.
-- Turai's critics accuse her of holding too much power for someone who holds no cabinet or other official post. They say she hurried Yar'Adua back to Nigeria when it became clear that Jonathan was becoming too assertive as acting head of state.
-- Some refer to Turai as Nigeria's Imelda Marcos after the influential wife of former Filipino strongman Ferdinand Marcos, who ruled for more than two decades before being driven from power by protests in 1986.