Afenifere Statement On Yar'Adua's Return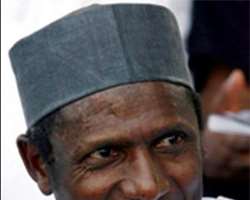 "Afenifere welcomes President Umar Yar'Adua back to the country and wishes him full recovery. However, Afenifere insists that unless Alhaji Yar'Adua's health status is medically certified and he writes to the National Assembly about his return, His Excellency cannot continue to govern this country. We must insist on propriety and decency. Nigeria is not anybody's Banana Republic. We cannot have government by proxy. The Presidency is greater than any one person or any sectional interest.
"The National Assembly had attempted a solution to the constitutional crisis caused by the President's long disappearance, but we fear that sustaining the resultant status quo will not advance the course of our democracy and may actually precipitate constitutional anarchy.
"As a result, Alhaji Umar Yar'Adua's letter to the Senate about his return will help decide in a long way who between him and Dr. Goodluck Jonathan will retain the seat of President and Commander-in-Chief.
"After rebuffing delegations from the Governors' Forum and the House of Representatives that visited him in Saudi Arabia, the President and his family must realize that this letter to the National Assembly affords them a soft landing and the last opportunity to reconcile with the Constitution and the country.
"The fact that he arrived the country in an air ambulance and was driven out of the airport in an automobile ambulance after receiving treatment for over 90 days abroad shows the extent of his incapacitation.
"When all that was required of President Yar'Adua was a simple notification to the National Assembly on his medical vacation, he refused to submit such a correspondence and thereby left the Nation hanging. It was a reckless neglect, a flagrant display of total disregard for the Nation and the Constitution.
"However, two wrongs do not make a right. While the appointment of Dr. Goodluck Jonathan as Acting President is technically unconstitutional, having regard to the clear provisions of this country's Constitution, this unconstitutional act (though expedient to enable Jonathan immediately exercise presidential powers) must be regularized through a constitutional process as contained in the Constitution.
"Failure to do this will be embarking upon extra-constitutional solution to a mischief that has been clearly provided for in our Constitution. In the prolonged absence without notice of the President, the ministers can either follow Section 144 of the Constitution or the National Assembly should commence an impeachment process against President Umar Yar'Adua without delay.
"Either way, this matter must be resolved immediately as Nigeria cannot continue to have both an Acting President and a sick full-fledged President indefinitely. Those who are courting an abridgement of clear constitutional provisions are fanning the embers of anarchy and the demise of this Republic."
CHIEF REUBEN FASORANTI, OFR, Afenifere Leader.