Wall Street Little Changed Ahead Of Fed Meeting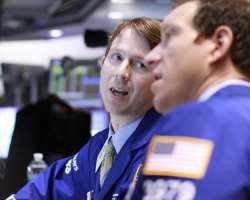 Stocks edged up in morning trading on Tuesday ahead of the start of a highly-anticipated Federal Reserve meeting.
The Fed's policy-setting Federal Open Market Committee starts a two-day meeting Tuesday and markets are on tenterhooks as traders try to anticipate the Fed's timeline for winding down a bond-buying program that has been fundamental for price moves in various markets.
Speculation over the meeting has shaken markets significantly after Fed Chairman Ben Bernanke said on May 22 the Fed could begin to scale down its stimulus if the U.S. economy gains momentum, comments that brought the equities rally to a halt.
Volatility has spiked since, but the S&P 500 closed Monday less than one percent below the close on May 22. Intraday ranges have widened, but the market has largely moved sideways.
Data showed U.S. housing starts rose less than expected in May but the overall trend remained consistent with strength in the housing market, while consumer prices rose giving the deflation-wary Fed some respite.
The Fed's policy won't show major changes after the meeting according to Todd Salamone, director of research at Schaeffer's Investment Research in Cincinnati.
"They won't do anything in this meeting and I think the data supports that," Salamone said. "We remain in a holding pattern until the policy statement is released (Wednesday) afternoon."
The Dow Jones industrial average .DJI rose 43.4 points or 0.29 percent, to 15,223.25, the S&P 500 .SPX gained 2.72 points or 0.17 percent, to 1,641.76 and the Nasdaq Composite .IXIC added 10.68 points or 0.31 percent, to 3,462.81.
Boeing (BA.N) launched a larger version of its flagship Dreamliner aircraft at the Paris Airshow on Tuesday, sharpening the battle with rival Airbus (EAD.PA) in the market for fuel-efficient, long-distance jets. Boeing shares ticked up 0.5 percent to $103.63, a fresh 5-1/2 year high.
U.S.-traded shares of Sony (SNE.N) rose 3.7 percent to $21.48 as New York-based hedge fund Third Point said it has raised its stake in the Japanese company and urged its leadership to create an independent board to run a partially spun-off entertainment arm.
Shares of Hormel Foods Corp (HRL.N) fell 4 percent to $39.04 after the maker of Spam meat cut its full-year outlook.
REUTERS