Buhari, Wammako, Kwankwaso, Niger State Deputy Gov In Secret Talks As Bayero Marks 50 Years On The Throne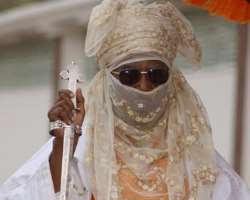 EMIR OF KANO, ALHAJI ADO BAYERO
SAN FRANCISCO, June 16, (THEWILL) – The political calculations for 2015, no doubt, has started in earnest.

The special durbar organised to celebrate the 50th coronation of the Emir of Kano, Alhaji Ado Bayero, in Kano, on Saturday, was another fertile ground for politicians to meet and strategise towards the next general poll.

Impeccable sources disclosed to THEWILL that the leader of the Congress for Progressive Change (CPC), General Muhammadu Buhari; Sokoto State governor, AliyuWammako; his Kano State counterpart, Musa Kwankwaso and Niger State deputy governor ,Musa Ebeto, used the opportunity to hold a secret meeting at the Presidential lounge of the Murtala Muhammad Airport, Kano to discuss some vital political issues. Details of their meeting are yet to be made public.

Their secret parley was part of the political maneuverings witnessed in Kano at the weekend as the Emir marked his 50 years on the throne.
Former Vice President Atiku Abubakar; the Vice President Namadi Sambo as well as other political bigwigs were present at the grand occasion.

While Buhari was being hailed with the shouting of ' Sai Buhari', Sambo and Atiku could only struggle for recognition.

Bauchi State governor Isa Yuguda was almost booed as snide remarks about him filled the air at the occasion with ' Yuguda, the anti North man is around'.
And speaking at the occasion, the celebrant, Bayero, declared that he bears no grudge against anybody, saying he had forgiven those that had offended him during his 50 years on the throne as Emir. "I seek forgiveness also from those we offended because we are all human," he added.
According to Bayero, who also expressed gratitude to the people of the state for making the event a success, "I always express my gratitude to Allah for his mercy on me time has come for us to rededicate our attitude to Allah. Let us shelf anything that is bad and other vices for us to be good people in our entire attitude."
He implored the people to always guide their children and ensure they are enrolled in school so as to be beneficial to the state and the nation. "I thank all those who show concern and support to us in our 50 years on the throne," he added.
Welcoming guests to the durbar, the Sultan of Sokoto, Alhaji Muhammad Saad Abubakar, explained that the celebration is meant to thank God for granting the Emir of Kano time to witness his 50 years on the throne.
The Sultan also prayed for peace and stability for the people of Yobe, Borno and Adamawa States who are currently under emergency rule, expressing that peace will soon reign in these states and other parts of the country.