I'll Have Babies At The Right Time—Stephanie Okereke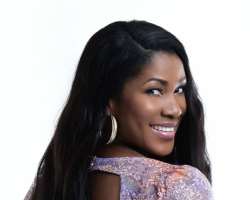 In April 2012, the entertainment industry, especially the movie fraternity, was agog. Everything was almost brought to a standstill at that time for the superlative wedding of Stephanie Okereke to Linus Idahosa. The prayers to get the wedding IV started within some people, but only few had the privilege to have it.
At last, the 'chosen' ones were airlifted to Paris, the French capital, for the 'fairy tale' wedding, which is still one of the most glamorous weddings in the entertainment industry. The only recent wedding that is closely at par with that is the 2Face/Annie Macaulay wedding held in Dubai in 2013.
But 14 months after the wedding, the couple has not yet produced a child. In late 2012 and early 2013, there were rumour that the actress was pregnant, but her tummy in recent times has not suggested such.
In a recent interview, the former MBGN pageant runner-up disclosed that she is happy with the fact that Nigerians, especially her fans wish her well, but she was quick to say she would have babies at the right time.
According to her, "the little ones are coming soon, but you know, everything is in God's hands and I'll have a baby when I'm supposed to have a baby. I am definitely not under any kind of pressure. We wish for it to happen and of course it's going to happen."