Boko Haram Teenage informants, 26 Others Killed in Maiduguri Fresh Attacks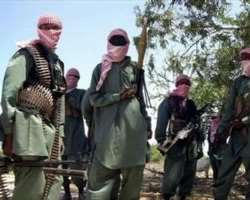 Three Armed Teenage informants believed to be spying for the Boko Haram Sect and at least 26 persons have been killed in a fresh attacks  between  Boko Haram sect and the  Joint Task Force (JTF)  in Maiduguri, Borno State Capital, Pointblanknews.com gathered.
A Senior Security source said he saw decomposing corpses of eight civilians, believed to be Boko Haram members, dumped in a ditch near Biu road bridge of Maiduguri. Residents of the area said the terrorists died on the spot after a shoot out between them and soldiers at about 10:30pm of Thursday.
According to the source, "among the eight corpses were three teenagers who were arrested with arms earlier on Thursday. They were said to have led soldiers of the JTF to the five others who sent them on kill members of the Nigerian forces" said the security source.
The Source added that the five persons attempted to resist arrest by trying to open fire on soldiers who gunned them down at once and dropped their corpses in a ditch.
Also  another set of eight Boko Haram gunmen were on Friday shot dead after they opened fire and killed 13 innocent civilians among them a middle aged woman popularly known as Hajia Ummu and her 70 years old mother.
"The Boko Haram gunmen slipped through several security check posts by carrying their guns in a coffin covered with white clothe. When they got to Shehu street, they immediately brought out their guns from the coffin and began shooting sporadically; they continued shooting until they ran out of ammunition, then some courageous youth rounded them up and handed them over to the soldiers, who shot them dead as they attempted to escape" a nearby resident who simply identified himself as Sheriff said.
"Among the 13 persons shot dead by Boko Haram on Friday, were two family members of my late aunt, 'Hajia Ummu, whose aged mother got killed" says a bereaved family member of late Hajia Ummu .
Pointblanknews.com gathered that corpses of the 8 killed Boko Haram gunmen are still laying unattended as soldiers have of recent got tired of taking the corpses to the morgue.
The source  also said  that young men in Maiduguri have formed a voluntary vigilante group who now go street by street fishing out known Boko Haram members and handing them over to the military.
Other sources said it was in relation to this development that the angry Boko Haram gunmen concealed their arms in a coffin behind a pick up van, and set out on a revenge mission to attack the vigilante youths. But they never succeeded, though 13 innocent persons got killed before the youths intervened.