Buhari Should Be Arrested – Oritsajefor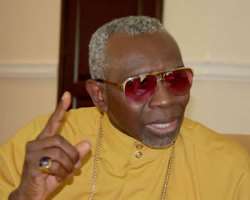 For allegedly inciting and showing tacit support for the Boko Haram sect, President of the Christian Association of Nigeria (CAN), Pastor Ayo Oritsajefor, on Tuesday wants Ret. General Muhammadu Buhari arrested.
'Spent and defeated politicians with outburst of temper and elders like Buhari who take delight in inflaming religious and ethnic passions should, therefore, be arrested and made to explain some of the issues raised by them.
"This is why I call for the arrest of Buhari now. Buhari is a big security risk to Nigeria's cooperate existence,' CAN President said in a statement signed by his Media Adviser, Mr. Kenny Ashaka
According to the CAN President 'I have several times been vindicated that Boko Haram is not inspired by pecuniary motives, the latest of which is the statement by Robert Fowler, the released former United Nation's envoy to Niger Republic who said in a BBC programme, 'Hard Talk', aired on Tuesday, June 4, 2013, that his captors never talked of poverty but Islamisation of Africa.
The National Leader of the Congress for Progressive Change (CPC) had recently questioned the 'special treatment' given to the Niger-Delta militants by the Federal Government while the Boko Haram members were being killed and their houses destroyed by government.
Buhari was quoted to have said: 'They (the Niger-Delta militants) were trained in some skills and were given employment, but the ones in the north were being killed and their houses were being demolished.'
But Oritsejafor disagreed with Buhari's stand and advised President Goodluck Jonathan to immediately order his arrest as part of efforts to find lasting solution to the crisis.