Drivers Protest Proposed Ban On Commercial Buses In Abuja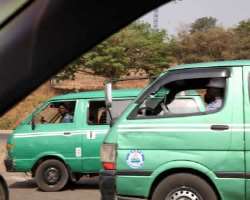 ABUJA, May 28, (THEWILL) – Hundreds of commercial drivers under the aegis of Owners and Drivers of Mini Buses Association, Tuesday, stormed the National Assembly to protest the proposed ban of mini-buses from operating in the Federal Capital Territory (FCT) with effect from June 3.
The protesters who carried different banners described the new policy as "obnoxious policy on transport," saying it is "not mass friendly" and should be rescinded.
Some of the banners read: "We are Nigerians, give us our right to work please," "We are not in military regime, we are in democracy, hear our cry," "We're part of the organised labour, we are not touts, live and let live," "SOS, SOS, save our jobs, don't throw us into starvation and death. Save our jobs," "NASS, save our families."
Other banners read: "We are legitimate drivers and conductors, NASS stop this impending slavery," "Is government afraid of competition? Live and let live," "Create jobs not joblessness."
A member of the association, Prince Paul Omeire, who addressed the press at the venue of the protest disclosed that the objective of the protest was to get the National Assembly to get the FCT Transport Secretariat to change the policy.
"We are member of Owners and Drivers Association, and we operate the town service transport. We own the buses and drive them. Our problem is with the Transport Secretariat of the FCT.
"The new transport policy is that we should stop operation in the city on June 3rd and this means that at least 25,000 drivers with their families and other extension will suffer. We create jobs and we don't know why they want to create joblessness," he said.