May D visits Charlyboy's office to solicits blessings for his Album Launch in Abuja.[PICTURES]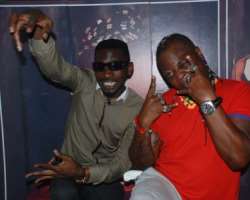 It has now become a norm among Nigerian artistes organizing big shows in Abuja, the Federal Capital Territory to pay homage to Charlyboy and receive early blessings before their shows.
May D, was at the AreaFada's New Wave Productions office in Gwarinpa on Tuesday to officially inform him of his Album launch which holds on Saturday, 26th May, 2013 at the ThisDay Dome, Abuja and to as well, receive words of advice and blessings from the AreaFada, whom he believed was a veteran in the industry.
He said, " I have simply come to pay homage, and to receive great blessings ahead of my album launch. I know you are a veteran in the industry; you are a father, without whom this industry wouldn't have been what it's today. We will always show respect and love any time we try to do things on our own. We can't afford to do anything in FCT without letting you know our intention. Bless me FADA"
Reacting, Charlyboy said " I see your zeal and I appreciate the love. Your event is already a success. I'm happy that the industry is expanding with effort from people like you. You have my blessings May D"
Speaking further, the AreaFada had told both Yankee and May D to keep striving so they can begin to take care of him, the FADA. He said, " I have my father right now in the Punk Palace and I take care of him, I expect you too to begin to take care of me, your father." Turning to May D, the AreaFada asked " I hope you don't smoke? You need to stop smoking, if you do, because it's dangerous to one's health. You must try as much as possible to secure your future. Cigarettes contain dangerous substances and must be avoided."

May D officially presented his event tickets to Charlyboy, urging him to make special appearance at his event.
Recall that Iyanya Mbuk was at the AreaFada's media office few months ago when he launched his album in the FCT.
[Dailypost]