NLC President, Omar, Okays Jonathan For 2015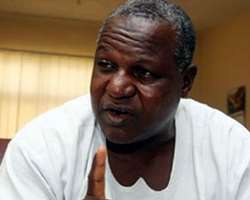 NLC PRESIDENT, COMRADE ABDULWAHEED OMAR
SAN FRANCISCO, May 15, (THEWILL) – As the political calculations for the next general election begin, the President of the Nigeria Labour Congress (NLC), Comrade AbdulWaheed Omar, has declared that President Goodluck Jonathan has every right to seek re-election in 2015.
Speaking with newsmen in Ibadan, the Oyo State capital, Omar said he didn't see anything wrong in Jonathan contesting for re-election.
"It is now up to Nigerians, the electorate to decide if he has performed well to vote for him but as far as I am concerned, as a Nigerian and the sitting president, he can contest for the highest position which is presidency.
"it is up to President Goodluck Jonathan and the government to ensure that we have a free and fair election that is credible and acceptable to people," he said.
Omar however expressed reservations at the political development in Rivers State, describing it as treasonable felony.
"From what I read yesterday and today, they are trying to withdraw security agents from the state governor and members of the state House of Assembly. That would amount to treason. The legislators and the governor were duly elected by the people," he said.
According to the NLC president, Governor Rotimi Amaechi and the lawmakers were elected by the people.
"They are not there at the mercy of anybody and the law provides that they are secure and must be provided with security.
"Nobody has the right to withdraw their security. If anybody does that, it would amount to highest crime against this nation. It means we are no longer practising democracy. it is anarchy.
"It is only during military government that somebody can just decide to withdraw the security of a democratically elected executive governor. That would be treasonable," he said.
The NLC president also described the political heat in the country occasioned by preparations towards 2015 polls as normal anywhere in the world.
"As the general election is approaching, the polity will be heated. What we should be on the lookout for is what people will be saying and how they would go about carrying out their activities. As long as things go the normal way, whereby freedom of expression and association is granted to everybody, there would be no visible victimisation," he stated.