More Tension in Abeokuta, as Gunmen attack Ogun PDP parallel Exco chairman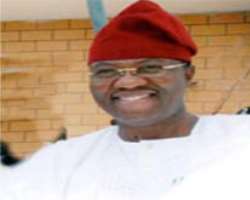 Huhuonline.com can reveal that things are still falling apart in Ogun State PDP, just as a factional leader of the party, Alhaji Semiu Sodipo narrowly escaped death when unknown gunmen attacked him at Ibara GRA, Abeokuta, while returning home. Ardent readers of huhuonline.com would recall that full text of the political impasse in the state was recently published. Alhaji Sodipo, is the chairman of the parallel exco of party, said providence and his cries for help saved him from the assailants who inflicted injury on his head before fleeing. He said he has since reported the incident to the Ibara Police station. Huhuonline.com gathered that he was returning from the parallel secretariat at Onikolobo at the weekend and had decided to pass through Ibara GRA to beat the routine traffic snarl at Panseke when the gunmen drove from behind, blocked his way and attacked him with guns.It was gathered that no gunshot was fired, the PDP leader said his attackers chased and knocked him to the ground with gun butts when they wanted to escape. He said they were not armed robbers but persons sent after him for political reasons. The incident happened barely two weeks after killing of the Action Congress (AC) governorship candidate during the 2007 general elections in Ogun, Otunba Dipo Dina. The party leader said politically-motivated attacks against people with dissenting views have become a routine in the Gateway State, adding that he has become a target of attack and all kinds of discussions in the state since he emerged the chairman of an exco of the PDP.
Sodipo said: ''I saw four of them; they ran out of the car. I don't know if there were still others in the car, but I only saw four. I immediately knew I was their target. I jumped out of my car and ran for escape, but they came after me, pulled my cloth. They hit me with butts of their guns. They didn't shoot. I don't know if they were trailing me. They came from behind and just moved close, behaved and drove in such a way that you have to just stop or you run into a ditch. They took the car key from the driver.
They wanted to be sure he did not escape when they were beating me. We couldn't locate the key again. In GRA, there are no taxis or okada. I had to walk a long distance to the OPIC Roundabout where I picked a taxi to Ibara junction. I then took okada home to collect the car's spare key and told the driver to go and bring the car. The car was not touched; they did not take my money. I know my phone flew off. They didn't request for my phone."If they were armed robbers, I expect that they should take the car away because they have the car key with them. They didn't take anything from the car. They are not armed robbers. Armed robbers only look for your property and money. It is a very terrible situation. We have never had it so bad. Nobody is safe.''