NO SUPREMACY IN GOSPEL MUSIC...- Dare Melody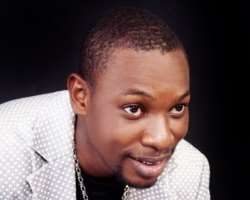 Aside the fact that he's due for international exposure and that some international music promoters have been jostling to have him booked for the New Year, Dare Melody is one personality a lot of people respect in the gospel arena of the entertainment industry in Nigeria. The self-acclaimed golden son of gospel, Damilare David Odunuga popularly called Dare Melody has carved a niche for himself and amongst the packs, he's one artiste that is loved and respected due to his God-giving talent in singing, composing and of course preaching. This of course is part of the things that got him an offer to entertain at the Babcock University, Ilisan Remo, Ogun State come Thursday 18th of March, 2010. Meanwhile, Dare who recently returned from a tour of West-African nations for the promotional effort for his latest work, Goodness and Mercy, has promised not to leave any stone unturned as his formidable band is ever-ready to storm the Babcock University in a grand style.
While preparation for this show is on-going, the sonorous voice singer, Dare is having a mutually benefitted talk with some international music promoters over his fast-selling new work, Goodness and Mercy as they are making grand preparation to embark on European tour before Easter festivity begins.
He recently had a chat with Michael Alonge where he opens up on a wide range of issues most especially the controversy currently going on between Femopal and Teriba. Enjoy your reading
How did your journey to the top in the music industry begin?
Hummm it was a long story. It isn't easy to get to the top in music industry. The beginning of the journey was crooked; I have been through a lot of challenges and have encountered a lot of impediment but with the grace of the most high God I never gave up and His grace has sustained me to the top. So all glory be to the Him, the most high God.
Who is Dare Melody?
Well! My full names are Damilare David Odunuga. Dare Melody is my stage name and I am an easy going person with humble disposition.
Can u tell us the effect publicity has had on you?
Oh any organization that lacks publicity will surely liquidate or collapse. So publicity has done enough for me positively.
How is life off stage?
Life has been good both on and off stage and I'm really enjoying life to the fullest.
It's generally believed that a lot of band leaders have canal knowledge of their back-up female singers, how true is this and do you engage in this act too or not?
In everything you do in life make sure u have the fear of the Most High God in you. It is obvious that some leaders get themselves engaged into such acts which is very bad but as for me; I have never done that and will never do that.
What's your band strength like?
God the creator of heaven and earth is my band strength, God has enjoined us together and we have quite an impressive number of multi-talented in the band.
Where are the places you've touched home and abroad?
I have been to a lot of places home here which I can't even mention because they are too numerous. Internationally, we have been to South Africa, France, and Dublin to mention but just a few.
There is this rancour between some gospel acts over supremacy, what's your takes on this?
I don't have anything to say to that except that only God is the Supreme Being. So, all this fight over supremacy is baseless and does not hold ground. I just pray they come together and resolve their differences.
Which caucus of the gospel do you belong?
I sing a pure gospel music. Undiluted gospel songs without mincing word.
Who is or are your mentor (s)?
Evangelist Ebenezer Obey, Baba Ayewa, Mummy Bola Are, Evang Akin Adebayo- Imole Ayo and General Prince Adekunle are my mentors and influences in the music industry.
What are we expecting from you band next?
I just dropped a new album not quite three months titled Goodness & Mercy. The calls and commendations we have received gave us the assurance that, we are still making an impact in the industry, to God be the glory.
Could you tell us how much money you made on the album that shot you to limelight?
Humm it's not something I can disclose on the pages of a magazines, it's a confidential issue but it worth a lot of millions. (Laugh)
What other things are you involved with aside music?
I'm into full time music. Nothing else interests me but music.
What is your most valuable possession?
A copy of Bible and for worldly acquisition, I think I will say my house
With about three to four albums to your credit, would you say you are fulfilled or not?
I am fulfilled and still willing to get more fulfillments.
How was your growing up like?
It was somehow terrible but God has been there for me right from my childhood.
Can you share your most embarrassing moment with us?
That was 1994 when my boss slapped me and humiliated to the extent that I regretted the day I was born. He embarrassed me publicly all because I broke some bottles of chemical at the factory where I was working before God lifted me to the greater heights.
Have you ever cheated on your wife: a child of god must not lie remember?
No I have never
Are you romantic?
Yes of course am not a saint
Thanks for sharing your time with us
Thank you Mr. Alonge
Story by Alonge Michael