Netflix Shares Jump As Subscribers Rise; Margins Seen Following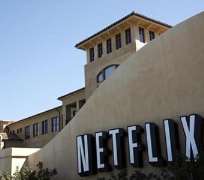 Netflix Inc shares shot up 24 percent on Tuesday to their highest level since September 2011, after the movie streaming service said it added more than 2 million U.S. subscribers last quarter.
The latest jump made Netflix's stock the fourth-most pricey in the Standard & Poor's 500 on a valuation basis.
Analysts rushed to revise their forecasts for Netflix's earnings, reasoning that the company's push for exclusive content will boost margins in coming quarters. They also lifted their targets for the stock price, which has now more than quadrupled in the past eight months.
The shares were up $42 at $216.66 in morning Nasdaq trading after Netflix posted a higher-than-expected quarterly profit late Monday.
"Netflix is seeing a bit of an extreme reaction today," said Jeff Morris, head of U.S. equities at Standard Life Investments in Boston, which has $272 billion in assets. "There were questions about (the company's business model), but it's putting up good subscriber growth and seems to be delivering on original content."
The stock is now trading at roughly 165 times estimated 2013 earnings per share. By contrast, the average price-earnings ratio for the sector is about 14.
Only three other stocks in the Standard & Poor's 500 index have loftier multiples: Vulcan Materials Co at 402; Prologis Inc at 210; and Amazon.com Inc at 182.
Despite the already big jump, at least eight brokerages, including JPMorgan, BMO Capital, Morgan Stanley, Barclays and Oppenheimer & Co, raised their price targets on the stock by as much as $75 to as much as $250.
"Netflix is in an enviable position with its scale and can opportunistically bid on content not available to the company previously," Morgan Stanley analyst DeVitt said in a note.
Netflix now has 29.2 million U.S. customers for its $8-a-month U.S. streaming service, the largest part of its business.
"The solid performance in the March quarter combined with a better-than-expected outlook for the June quarter, aided by the upcoming release of 'Arrested Development: Season 4,' augurs well for the company in 2013 and beyond," BMO Capital Markets Corp analysts said.
"Arrested Development", dropped by network TV but later revived on Netflix, will premiere on May 26 with the entire 15-episode season available to stream online.
"Four billion hours were streamed in the quarter - highlighting how the company's subscriber base is increasingly using Netflix for a growing share of their viewing trends," BMO said.
Besides boosting subscriber numbers, the push for exclusive content will probably increase margins in line with Netflix's premium TV network peers, DeVitt wrote.
Netflix has been pushing for original shows, and its February release of "House of Cards", a drama series starring Kevin Spacey, generated plenty of attention just as more viewers turn onto Internet video downloading.
"Netflix is racing to ramp up original hours of versatile programming in an effort to build a brand identity with different segments of the market," Susquehanna Financial Group analyst Vasily Karasyov said.
The big run-up in Netflix shares has probably hit short sellers, but there are still many betting against the stock.
The short interest position in Netflix for the most recent period, from the end of March, was 13.4 percent of shares outstanding, compared with less that 2 percent for blue chip companies such as Google Inc and IBM Corp, according to Thomson Reuters StarMine data.
Short interest in Netflix peaked at about 38 percent in April 2008.
Short sellers profit from betting stocks will fall. They borrow and then sell shares, waiting for the price to drop so they can buy them at the lower price.
REUTERS