Igbo Group Faults FG Over Amnesty For Boko Haram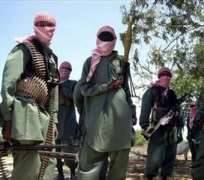 SAN FRANCISCO, April 12, (THEWILL) - The Federal Government has been faulted over its plan to grant amnesty to members of the Boko Haram.
A pro-Igbo socio cultural group, the Biafra Liberation Council (BLC), which faulted the amnesty plan has therefore told the Federal Government to reconsider its plans.
"It is unimaginable that a group which has killed hundreds of people in the north simply because they failed to embrace Islam is being considered for amnesty," the group said.
Maintaining that any amnesty to Boko Haram would be counter productive as it would encourage other groups to carry their own arms and begin to unleash mayhem on innocent people, the group warned that if the government should go ahead with the amnesty plan , it would no longer continue to restrain militant Igbo groups from embarking on reprisal attacks against northern elements within the territory of Biafra or anywhere else for that matter.
The group, in a statement signed by its spokesman, Amaechi Nwaofia, said: "We urge the Government of Nigeria to drop any plan aimed at granting any form of amnesty to the terrorists as such plan amounts to treating certified criminals like sacred cows and rewarding them positively for terrorism.
"This is absurd. Any amnesty to the terror group will be counter productive as it will encourage other groups to carry their own arms and begin to unleash mayhem on innocent people.
"Above all, it only shows that the lives of Ndigbo as well as the Nigerian security operatives wasted by these terrorists mean nothing to the ruling clique."
The group also stated that it will hold Goodluck Jonathan and his cohorts accountable for the genocide being committed against Ndigbo in the name of Islamic jihad in the north at the right time.
Noting that Boko Haram had made it abundantly clear that they should be allowed to have a sharia country, without which there would never be peace, the Igbo group said "Rather than amnesty, a country should be carved out for them where anybody who finds himself or herself there will know that they are under the rules of sharia."
It added: "There are Islamic countries such as Sudan, Palestine; Libya, etc. And there are provisions for self-determination in human rights instruments."
Maintaining that no amount of amnesty would stop the jihadists from going on rampage and from killing Ndigbo and security operatives as collateral damage in the name of sharia, the group said it was not surprised that the Nigerian state was considering the amnesty package, which, it noted, might include handsome rewards for the Boko Haram members.