"WE HAVE TRANSFORMED NIGERIA" – JONATHAN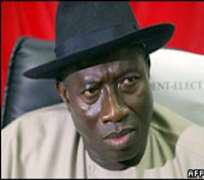 That Nigeria is a potential World Power is not in doubt. It has all the attributes, tools/implements and natural endowment to make it a great entity. Its greatest asset is its enduring and resilient population.
Nigerians are some of the strongest human beings on the planet earth. I'm not here referring to just physical strength; they have strong intellect and psychological staying power, they have strong spirit; they can endure pains inflicted by the ruling class yet still trusting and believing it will be well after all; they are ready to sacrifice their comfort and wellbeing for the mother land but do not get protected by her (refer to Super Eagles star, Victor Moses' story); they are all too forgiving. Sometimes these traits tend to suggest docility because they are ready to forgive all manners of infractions, decimations and outright denial of their means of existence by the political leaders. And this is where the greatness of the people ends. This also suggests the ultimate and tragic end of greatness of the country itself because no nation is great without its people; thus when the populace is put down and their potentials ignored or mismanaged, the nation itself can never rise above its citizens.
Unfortunately, Nigeria has not been able to tap the great human potentials it has in abundance because of poor leadership at all levels. One finds an otherwise active and productive population being made redundant because the system has refused or has been tailored to deny them the means or the environment to allow individuals unfold and attain their optimum potentials. The nation therefore kills all things bright and beautiful that nature has endowed it with. Whatever policy, programmes and facilities that work perfectly well in other climes, get muddled up and eventually 'murdered' when introduced here. Why?
For as long as this entity has been in political existence, it has always lacked one tool. Up till date, we are still groping in the dark looking for that important tool that will pull Nigeria up and make it what nature had destined it to be. That missing tool is TRUE SEFLESS POLITICAL LEADERSHIP.
We have never produced or the inherent political system has never allowed the emergence of leaders that truly want the great potentials of Nigeria actualized. Except for the brief period of Murtala Mohammed, no other Head of State or President in history has consciously denied himself comfort in order to provide the country with selfless leadership, care and love. I do not want to bore the readers with analysis of successive governments here and their performance. This is already too well known to bear repetition.
Nigeria has had previous civilian Presidents/Prime Minister. We did not get anywhere with those set of leaders until a group of soldiers did them in. We had been forced to accept military leadership for a long period of time in our history. That too ended in unimaginable political disaster.
And since 1999, after "rivers" of bloodshed of many Nigerians during the struggle to emancipate the country from the clutches of military rule and enshrine democratic political leadership, we are still very far from leaving the starting block in the true sense of that word. We are still plagued by lack of committed leaders at all levels leading to stunted growth both in human and national resources application terms.
It was the belief of most citizens that we had never had a graduate as Head of State or President hence our steady backward march in all indices. As providence would have it, we now have not only a graduate but a PhD holder directing affairs at the top. I ask myself, what difference has this made in the lives of ordinary Nigerians since this administration took over 4 years now? Has the educational attainment of the leaders translated into value-added services to the citizenry? I can hardly justify this.
The political slogan of President Goodluck Jonathan was and still is "we will transform" Nigeria. Most people believed him. Our hopes were raised that at last someone who should truly understand our plight is on the saddle and would be able to take transformation of the country practically and seriously; after all he was once one of us. He had no shoes, went to school on foot and suffered other deprivations that have since been the lot of the ordinary Nigerians. We looked forward to the fulfillment of his promise of transformation.
After all these years, we are beginning to wonder. What indeed is transformation? Have we been misunderstanding what that magic word is? Curiously, the President is claiming that he has transformed Nigeria. This prompted me to look up the meaning of that word again just to assure myself that I understand Mr. President well.
The Longman Dictionary of Contemporary English defines "transform" as: "to completely change the appearance, form, or character of something or someone, especially in a way that improves it". (Emphasis mine)
Taking the above definition and applying it to Nigeria under President Jonathan, one is tempted to wonder where in the country any transformation is taking place; or what aspect of our national life is being given any semblance of transformation.
The PDP led Federal Government has not been able to provide Nigeria with even 30% power supply since about 14 years now with billions of Dollars sunk into this sector. Specifically, Jonathan has not recorded any increase in power supply since he took over; if anything it has since dipped. If this is "transformation", then I agree with him.
Almost all Federal roads in the country are in deplorable condition such that the nation continues to lose thousands of innocent lives every year due to road accidents caused by bad roads. Take for instance the Port Harcourt – Enugu highway. Taking it from the Port Harcourt end of that road, one would be ashamed to hear Goodluck Jonathan talk about transformation. That highway has completely broken down at most points beyond description. If again this is transformation, I agree with him.
Before the coming of the master transformer, Nigerians were paying less for fuel. Petroleum product especially petrol (PMS) drives the cost of goods and services in the country because of her near total dependence on road transport. President Jonathan came, jacked up fuel prices promising Eldorado thereafter, yet he has only succeeded in driving the commoners to the ever decreasing dustbins as cost of living has since gone beyond the reach of ordinary citizens. (You only have to eat to generate domestic refuse for dumping). We now have more scavengers than rubbish generated. If this is transformation, I have no problem agreeing with President Jonathan.
In the area of security, Nigeria has never had it so terrifying in terms of less value for lives and for property of citizens. The nation has witnessed more bloodshed during the life of this administration than all the others put together except during the civil war. We have lost lives to poorly managed health/medical institutions and facilities. We have lost lives due to avoidable road accidents. We have lost lives to air crashes. We have lost lives to hunger. And worst of all, the hydra headed Boko Haram insurgency has claimed thousands of lives of innocent citizens. Yet this President would openly beat his chest and say "we have transformed Nigeria". This surely is transformation by another name.
One of the greatest issues negating any marginal growth both in economic and social fields in the country has always been and still is CORRUPTION. We have always been given "healthy" corruption index ranking in the world as one of the most corrupt nations. Corruption has taken over the entire fabrics of the society in Nigeria. No institution is spared. Under President Jonathan, corruption has been awarded a "Medal of Honour"; only small thieves get punished. The big ones sleep in NICON Hotel or other five star hotels while in detention awaiting favourable court ruling in their favour to send them home with grand celebration party. Convicts are heralded back home after serving prison jail term with cultural dances and pageantry.
Meanwhile corruption macabre dance continues everywhere in the country. Fuel Subsidy – Corruption, Contracts Awards – Corruption, No Power Supply – Corruption; Banking and Financial institutions poor performance – Corruption. Judges at all levels of the judicial system denying people justice – Corruption; to serve in the NYSC – Corruption. Education sector and infact in the higher institutions – Corruption, Law Enforcement Agencies – Corruption, Poor administration & Implementation of budgets – Corruption; The Legislature is not spared as it has been having its fair share of the monster. If all these are signs of transformation the President talked about, nobody would disagree with him. There is indeed the Nigerian definition of "transformation" as propagated by Dr. Goodluck Jonathan.
But if on the other hand, we are using the globally acceptable definition of that word "transformation", then President Jonathan had better look for where to hide his face in utter disappointment. For his administration has performed woefully in all known directions.
Under him Governors have become untamable, carrying on as if beyond reproach; infact the President appears to be encouraging them to trample on the rights and privileges of citizens. He is encouraging them to fritter away meager state resources in pursuit of self- comfort. He accepts from some of the Governors, frightening donations and other pecks that ought to have irritated him knowing the source of the money so frittered away. He is not bothered about the growing hunger and dissatisfaction in the country so long as those who will help actualize his second term dream are left to roam and poach on every kobo of the public. Governors (not all of them) have become emperors ruling conquered territories; they can't be put to questions. They have no business explaining to their 'subjects' (I hate to use this term) the intended direction and goals of their policies. You dare not criticize them even constructively, no matter what.
Once they collect the monthly rituals called allocation, the foreign exchange market bubbles with high demand; off they go globe-trotting to squander 'excess' public funds. They buy for themselves and their families, expensive luxurious private jets; acquire houses all over the world while at home the citizens live under the bridges and in uncompleted buildings.
When some Governors use public funds to undertake any project in their state, which is what they were elected for in the first place, they expect the citizens to crawl before them in appreciation. Some of them go to the ridiculous extent of pasting and erecting their photographs on such projects sites as if the projects were funded from their private estate earnings. They take to Television/Radio and Print media to sing their praises of providing "uncommon transformation". They engage the services of Public Relations experts to plant favourable news items in the media on their behalf in praise of their "sterling performance". Some of the Governors have compromised almost all arms and agencies of government that even after their immunity, they will go scot free with their loots and use this again to taunt and torment the people, the real owners of the looted or slush funds.
All these have been taken to intolerable dimension under the watchful eyes of President Goodluck Jonathan. Are we to believe then that the President and Commander in Chief of the Armed Forces is helpless in calling the emperors known as the Governors to order in defence of the Constitution of Nigeria? I once heard President Goodluck Jonathan mimic President Obama that the world does not need strong men but strong institutions. I disagree with him from the Nigerian perspective. The Nigerian angle is that the country needs both strong men and strong institutions to survive. If you place a weak leader in a strong institution, he either weakens its foundation and structures to suit his capabilities or he gets swallowed up by the institution. Conversely, place a strong man in a weak institution and he brings his strong personality to bear on the institution by strengthening its foundation and structures thereby pulling it up to his capacity.
In spite of overwhelming evidence staring us in the face, my President is chest-beating, claiming to have transformed Nigeria. Transformation indeed!
As for the issues of Niger Delta which instigated armed conflicts, I wonder what aspects of those issues have been given enduring attention. I know for a fact that the NDDC has had its funds trapped in the Federation Account owing to "lapsed" tenure of such funds; has the President, himself a Niger Deltan done anything to correct this denial? How can money meant for the development of the people in the region be described as being "lapsed"?
Most part of Ogoni land is known to have been ravaged by heavy oil spill prompting the United Nations to get involved. In a well-publicized report, the body alerted the whole world to the human disaster called Ogoni oil spill. It stated categorically that it would take up to 30 years to clean up these areas. Meanwhile the people's means of livelihood – farming, fishing and their drinking water have been rendered unusable.
Years after the report and subsequent setting up of Committees by the President, there appears to be motion without movement as there are no appreciable efforts towards ameliorating the situation. The President who should feel for his people is tucked away in Abuja not seemingly bothered. He has not even bothered to visit the area to see things for himself. Talk of the advantage of having your own as President!
The Petroleum Industry bill (PIB) which seeks to entrench some form of compensation for the oil bearing communities is suffering epileptic attention in the National Assembly as some sections of the country would have none of if it.
What moral right would the Niger Delta region have to protest in future if these challenges are not addressed by Jonathan? Why did the region stake everything in support of their own if he cannot use his tenure to effectively tackle these issues of past neglect?
Currently, there is enshrined in the Constitution of Nigeria, the principle of oil derivation which ensures that 13% of revenue generated from oil activities is paid to those states concerned. That is not the problem. The problem is that those states, at least some of them, have not transferred corresponding investments by way of development projects to the oil bearing communities in their states. This is in spite of the provisions in the Act directing that at least 40% of such funds be dedicated to those areas. Thus those areas have been left to continue to bear the brunt of oil exploration and production activities with nothing to show for their contribution. Can't the President intervene either directly or through legislation realizing that this is injustice being perpetrated by some of the Governors against oil bearing communities? Again talk about transformation and here is a classic example.
Would all these be regarded as transformation? Your guess is as good a mine.
At the moment, food prices have skyrocketed all over the country owing mainly to Boko Haram activities and flood that had ravaged some communities. There is also a United Nations report predicting shortage of food and consequently high prices in a few years hence. For a government that is forward looking, this would have been an opportunity to stimulate agricultural production in all states of the Federation. Almost all the states in the country are blessed with arable land that can sustain them on food produced in their locality. There would no longer be any need for states to depend almost entirely on others for their food needs. The Federal Ministry of Agriculture ought to abandon television agriculture to practical farming policies by not only creating enabling environment but driving food sufficiency policy through Community/Private participation. The states Ministry of Agriculture on their part should also de-emphasize on "budget agriculture", by which means farming is only reflected in huge budgetary allocation without corresponding results. There is a missing link between agricultural policy, budgets and outputs. I would hate to say corruption but it plays a major part. The rural farmers who should be part of the driving belt of agriculture are left out in so many ways than one hence the low output. Community participation is therefore the missing link. I seem to have digressed.
In summary, I urge Dr. Goodluck Jonathan to seriously scan the activities of his administration to see what it would present as undeniable achievements during his tenure. I can't really pin point anything unfortunately. I hope I'm not part of the 'disgruntled elements' that see nothing good in this administration.
I assure myself that I am not. But I am a patriot and a lover of Nigeria my country. I could also pass for a staunch fan of the President whom I want to succeed and leave a lasting legacy.
For now, him no dey try, to use the local parlance.
EYENISONG.
Disclaimer:

"The views/contents expressed in this article are the sole responsibility of

Eyenisong Ibibio

and do not necessarily reflect those of The Nigerian Voice. The Nigerian Voice will not be responsible or liable for any inaccurate or incorrect statements contained in this article."
Articles by Eyenisong Ibibio