Dancing with "ghosts" of Boko Haram, President Jonathan, Sultan Abubakar and Nigeria's national security.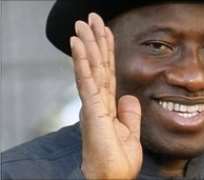 Nigeria's President Goodluck Jonathan is yielding to pressure from some of the political leaders of the core northern section of Nigeria and the influential voice of the top Muslim religion leader, the Sultan of Sokoto Alhaji Sa'ad Abubakar III, regarding their demands for an amnesty deal for the radical, violent Islamists Boko Haram.
In setting up a committee, as he did April 5, 2013, to reverse his previous position that his government would not negotiate with "ghosts" (his reference to Boko Haram), President Jonathan gave in to the reasoning of the leadership of the core Islamic northern Nigeria and hopefully minimize both criminal targeting of individuals/groups/ethnicities and religious conflicts in the area.
For many, Jonathan's back and forth and twists make him appear weak and indecisive and hasty but I think it's a national security move which might pay off, IF….
Worst case scenario, Jonathan's to and fro on Boko Haram will end up as an appeasement of another violent group and go down in history as a timid, faint-hearted gamble with the national security of Nigeria.
On March 5, 2013 in Kaduna, the Sultan asked President Goodluck Jonathan to immediately grant amnesty to all members of the Islamic sect, Boko Haram, as a path to ending the violence unleashed on millions of Nigerians and foreigners by Boko Haram and its spin-offs.
Abubakar, who is also the President-General of Ja'matu Nasril Islam, JNI, said in 2012 that he preferred amnesty, arguing "That problem can never be solved by drafting soldiers into cities where there is [a] problem - and in the process innocent lives were lost…."
The USAfrica News Index on this issue and period (November 2011 to March 2013) show that Nigeria's President initially, it seemed, strongly disagreed with the call. On March 5, 2013, he insisted that "You cannot declare amnesty for ghosts." He made those comments in the northern Yobe state capital Damaturu.
The embattled President argued, in contrast, that those who argue he should extend to Boko Haram a similar amnesty of financial and peace deals (his government has continued with militants from his home state and region) should note that: "In the Niger Delta, if you call them [the militants], they come and they will tell you their grievances; but Boko Haram, I don't see anybody who says they are Boko Haram."
I think that beyond the simplification of the issue to "if you call them [the militants], they come" and claims of who is a metaphoric "ghost", Jonathan, somehow has mixed up the standing of the riverine militants with the Boko Haram zealots. For him, one comes if you call them; the other does not! I call it Dancing with ghosts… on national security.
I know that while the riverine Niger Delta kinsmen of Jonathan's fight over the environmental despoliation and destruction of their villages by oil pollution/leaks/toxic waste, the commanders of Boko Haram target, primarily, Christians in the north and impossibly seek the broad Islamization of the north and Nigeria.
Significantly, Boko Haram responded to the "ghost" reference: "As regards the statement by Mr. President that we are ghosts, let me say with due respect that we are not ghosts; we have sat with officials of the Borno State Government and a delegation of Northern State Governors' Forum on Peace and Reconciliation, headed by Air Vice Marshall Mukhtar Muhammad (rtd.)."
Regardless, the recently split and scattered leadership of mainly the Islamic Northern Nigeria did not relent and give up while the President argued against any amnesty talks. Maiduguri and most of Borno were in tatters under the combined lethal and very bloody attacks by Boko Haram, its splinter groups and criminal gangs on one hand and the consequences of the raids by the Joint Task force of the government. Many of the key northern cities especially Kano, Kaduna, Bauchi, and a dozen others were subject to Boko Haram and/or Boko Haram related violence. [see special commentary Nigeria's Federal Republic of Insecurity. By Chido Nwangwu, http://www.usafricaonline.com/2011/12/17/nigeria-federal-republic-of-insecurity-by-chido-nwangwu/
Again, the Sultan of Sokoto Sa'ad Abubakar III did not allow President Jonathan to close the book on the heated issue. He was a former Brigadier General in the Nigerian Army, and an acquaintance of mine via then Captain Gana when Abubakar was a Major at the 32nd Armoured Division of the Nigerian Army; while I was on national service in the NASE unit of the same location of the Nigerian Army.
The military strategist in Sultan Abubakar came to bear on the tangle with President Jonathan on restoring peace to the north and its residents. He rallied a number of influential traditional leaders of the core north and called a meeting and secured a resolution last Friday March 29, 2013 at his palace under the Northern Traditional Rulers Council.
Even as many of those leaders feared for their safety many months to date for Boko Haram related violence, they reiterated their call for Jonathan's government to reconsider its stand and offer amnesty to, not only, members of Boko Haram but other agitating Islamic groups engaged in violent acts but who are willing to follow a peaceful means to state their case. The statement issued by the coordinating secretary of the northern council who is also the Emir of Kazaure, Alhaji Najib Hussaini Adamu pointed to what it called the "unfortunate escalation of insecurity in the country."
Let me note an important human, operational factor in the Boko-Jonathan-Sultan tangle that the Sultan's cousin retired Col. Sambo Dasuki is the National Security Adviser to President Jonathan. Dasuki, according to USAfrica multimedia networks sources, is on the same page with the Sultan in the efforts to secure some level of peaceful co-existence between Boko Haram, government and the rest of the north - including the safety of the Christian and mainly Igbo communities in the north who have been killed, according to some estimates, more than 1700 persons since 2011.
USAfrica and USAfricaonline.com can confirm that in 2011 and 2012, there were some informal contacts and unofficial dialogue between persons familiar with the feared Boko Haram and the Nigerian government; despite the denials.
The bottom-line is that Boko Haram violence and the issues of insecurity have remained very difficult for the Jonathan presidency to resolve that even his frank supporters and average Nigerians give him a poor grade.
For many, Jonathan's back and forth and twists make him appear weak and indecisive and hasty but I think it's a national security move which might pay off, IF….
Worst case scenario, Jonathan's to and fro on Boko Haram will end up as an appeasement of another violent group and go down in history as a timid, faint-hearted gamble with national security of Nigeria. Or will Boko….
Dr. Chido Nwangwu, moderator of the Achebe Colloquium (Governance, Security, and Peace in Africa) December 7-8, 2012 at Brown University in Rhode Island and former adviser on Africa business/issues to the Mayor of Houston, is the Founder & Publisher of Houston-based USAfrica multimedia networks since 1992, first African-owned, U.S-based newspaper published on the internet USAfricaonline.com; CLASSmagazine, AchebeBooks.com, the USAfrica-powered e-groups of AfricanChristians, Nigeria360, IgboEvents, UNNalumni, and the pictorials site PhotoWorks.TV . He was recently profiled by the CNN International for his pioneering works on multimedia/news/public policy projects for Africans and Americans. http://edition.cnn.com/video/#/video/international/2010/07/29/mpa.african.media.bk.a.cnn
Disclaimer:

"The views/contents expressed in this article are the sole responsibility of

Chido Nwangwu

and do not necessarily reflect those of The Nigerian Voice. The Nigerian Voice will not be responsible or liable for any inaccurate or incorrect statements contained in this article."
Articles by Chido Nwangwu