ANAMBRA CONTINUES HEALTHCARE PARTNERSHIP WITH THE CHURCH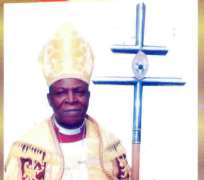 The Anambra State Government is to build a modern maternity centre at the Hospital facility initiated by the Anglican Diocese of Ihiala. Governor Obi who announced this at a service to mark the dedication of a church at Okija said the project will cost thirty million naira. Governor Obi said the maternity centre is to encourage efforts of the Diocese in promoting healthcare services to support state government healthcare delivery programmes.
He reminded the church of the responsibility to champion a course of change in the country. The Governor noted that Nigeria was endowed with enough human and natural resources which if well harnessed and prudently managed will take the country to greatness.
The Primate, Church of Nigeria, Most Reverend Nicholas Okoh in a sermon warned that ethnicity was threatening to destroy the church and stressed that the purpose of the church was to remove barriers and bring people together to glorify God. Most Reverend Okoh enjoined Christians not to compromise their faith over earthly squabbles.
Also, Governor Peter Obi has presented a cheque for one million naira to Our Lady of Lourdes Hospital, Ihiala for payment of hospital bills of some indigent patients and nursing mothers. Governor Obi presented the cheque during aroutine visit to the hospital.
Governor Obi said the gesture was to enable the indigent patients to go back to their homes and provide relief to the families of the nursing mothers. He restated the commitment of his administration in uplifting the quality of life across the State.
The Governor expressed satisfaction with the quality of work done on the on-going building projects in the hospital and enjoined the management toaccelerate pace of work to ensure early completion to enable government initiatemore projects. He explained that the State government's partnership with the church was fast-tracking the pace of achieving the Millennium Development Goals.
The Chief Executive Officer of the Hospital, Reverend Fr. Dr. Peter Uzochukwu said God was using the Governor to touch the lives of the people and uplift the State to a pride of place. Rev. Fr. Uzochukwu noted that the Governor was leaving behind a legacy that will benefit posterity and urged others to emulate him.
Also speaking, the Commissioner for Transport and an indigene of the town, Dr. Chike Ohamobi said that Governor Obi's administration is the first government to give the people of the area a sense of belonging..
Dr. Ohamobi explained that the area has benefited in many sectors including hospital, schools, water and road projects. Some of the beneficiaries, Mrs Ephermia Nnagboo and Mrs Uchenna Akpan from Akwa-Ibom State thanked the Governor for putting smiles on their faces.