Parties' Merger: Okupe Debunks Report On Jonathan's Alleged Directive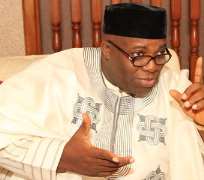 SAN FRANCISCO, April 02, (THEWILL) – The Presidency has debunked a report published in a national newspaper, Tuesday, claiming, among others, that President Goodluck Jonathan had given a directive that the planned merger of some political parties should be frustrated and that some state governors had been put on 24-hour surveillance.
Describing the claim as false, mischievous and one which runs contrary to common sense, the Senior Special Assistant to the President on Public Affairs, Dr. Doyin Okupe, in a statement, Tuesday, dismissed the report, in its totality , as fictitious and lacking in any substance of truth.
Jonathan, Okupe maintained, couldn't have given such order in view of his pedigree as a democrat who has refused to interfere in the activities of other political parties and the Independent National Electoral Commission.
Noting that the publication attributes its sources to what it described as "presidential villa insiders", Okupe said the President does not give unlawful directives and has nothing to fear about the proposed merger that will necessitate him planning anything against the business interest of opposition figures as claimed by the report.
Okupe also frowned on the claim that the president was planning to raise the pump price of petroleum products when the same president has provided enough funds for fuel subsidy in the 2013 budget and has recently stated unequivocally that the Federal Government had no plan to increase fuel price or remove fuel subsidy.
He therefore advised journalists to avoid playing into the hands of those he described as mischievous politicians whose desire, according to him, is to blackmail the president and score cheap political points even at the expense of stability of the country.