NATO's Afghanistan Force Gets New U.S. Commander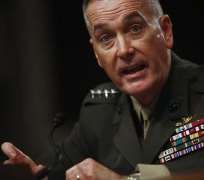 U.S. Marine General Joseph Dunford, expected to oversee the withdrawal of most foreign troops from Afghanistan by the end of next year, took control of the NATO-led mission on Sunday, in an elaborate ceremony which emphasised the country's sovereignty.
Dunford takes over from U.S. Marine General John Allen, who ended a 19-month tour which was arguably one of the most difficult periods in the war, now in its eleventh year.
"Today is not about change, it's about continuity. What has not changed is the will of this coalition," Dunford told a crowd of foreign and Afghan officials in the barricaded headquarters of NATO's International Security Assistance Force (ISAF).
Afghan President Hamid Karzai was absent from the change of command ceremony despite receiving an invitation from ISAF. A spokesman for Karzai declined to comment.
Allen, who directed ISAF's transfer of most security across the country to the Afghan army and police, delivered an emotional speech stressing the nation's sovereignty, an issue that has been a thorn in Karzai's relationship with his Western backers.
"Afghanistan is no longer the place between empires," Allen said, referring to a country where "imperial ambition and dynamics have played out ... for generation after generation".
Located between Iran, Pakistan and Central Asia, Afghanistan has been subject to invasions since the ancient Greeks, through to the 19th century "Great Game" scramble for power between Britain and Russia and the last more than 30 years of conflict.
Allen also underlined the role of the 350,000-strong Afghan security forces, who are expected to take over responsibility for all security by the middle of the year.
"Afghan forces (are) defending Afghan people and enabling the government of this country to serve its citizens. This is victory. This is what winning looks like," Allen said from a podium covered in an Afghan rug to enthusiastic applause.
Allen also stressed the role education is playing in changing the tide of public opinion in Afghanistan against Taliban insurgents, who banned girls from most schools. He earlier told Reuters that advancing women's rights was key to preventing the Islamist group from regaining support.
The White House said last month it would nominate Allen as NATO's supreme allied commander in Europe, after the Pentagon cleared him of professional misconduct over emails to a Florida socialite linked to a scandal that led his predecessor, David Petraeus, to resign as director of the CIA.
REUTERS