Toyota Lifts Annual Profit Forecast On Soft Yen, Strong U.S. Sales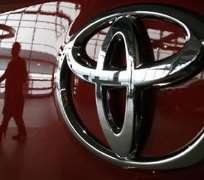 Toyota Motor Corp (7203.T) raised its annual net profit forecast by more than 10 percent to 860 billion yen ($9.3 billion) on strong sales of the Camry sedan and other vehicles in its biggest market the United States, as well as the yen's drop.
The world's biggest-selling carmaker posted a net profit of 99.9 billion yen for the three months to December 31, up 23.5 percent from a year ago when it struggled after natural disasters disrupted its supply chain.
Its third-quarter profit figure was below the average estimate of 143.7 billion yen among seven analysts polled by Thomson Reuters I/B/E/S.
Among Japan's big three automakers Toyota, Nissan Motor Co (7201.T) and Honda Motor Co (7267.T), analysts see top seller Toyota as the most likely to benefit from a weakening yen because it has the highest ratio of production in Japan, more than half of which it exports.
The yen is trading at around 92 to the dollar, compared with 78 at the start of October. The weaker the Japanese currency, the more money exporters make when they convert overseas profits back into yen.
In 2013, Toyota expects to sell 8.9 million vehicles globally. Across the group, which includes Daihatsu Motor Co (7262.T) and Hino Motors Ltd (7205.T), it forecasts shipping 9.91 million vehicles.
Last year, the 75-year-old firm sold a record 8.72 million vehicles around the world. Its group-wide sales were also a record high of 9.75 million vehicles, beating General Motors (GM.N) to regain top rank among car manufacturers.
Shares in Toyota have risen nearly 50 percent since mid-November on hopes the weakening yen will boost its bottom line.
They closed at 4540 yen on Tuesday before results were announced, down 1.2 percent on the day.
REUTERS