Stock Futures Flat, But Techs Rally In Preopen Trade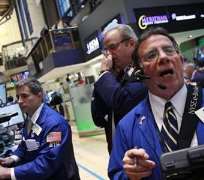 Stock index futures were flat on Wednesday, with investors reluctant to make big bets following a five-day rally that took major averages to levels not seen since December 2007.
Tech shares will be in focus following strong results from both IBM and Google, which rallied in premarket and continued the string of major companies outperforming following results.
Investors were also cautious as they awaited another onslaught of earnings reports, including from Dow components McDonald's Corp (MCD.N) and United Technologies (UTX.N). Apple Inc (AAPL.O) reports after the market closes and investors will scour that report for signs the company can continue to grow at an accelerated pace.
Google Inc (GOOG.O) rose 5.1 percent to $738.61 in light premarket trading a day after the search giant's core Internet business outpaced expectations. Revenue was also higher than expected.
International Business Machines Corp (IBM.N) late Tuesday forecast better-than-anticipated 2013 results and also posted fourth-quarter earnings and revenue that beat expectations. The results helped to allay concerns about the tech sector that arose when Intel Corp (INTC.O) gave a weak outlook last week. IBM, which is a Dow component, rose 3.9 percent to $203.81 before the bell.
According to the latest Thomson Reuters data, of the 74 S&P 500 companies that have reported earnings so far, 62.2 percent have topped expectations, roughly even with the 62 percent average since 1994, but below the 65 percent average over the past four quarters.
Overall, S&P 500 fourth-quarter earnings are forecast to have risen 2.6 percent. That estimate is above the 1.9 percent forecast from the start of earnings season, but well below the 9.9 percent fourth-quarter earnings forecast from October 1, the data showed.
S&P 500 futures fell 1.8 point and were below fair value, a formula that evaluates pricing by taking into account interest rates, dividends and time to expiration on the contract. Dow Jones industrial average futures were flat points and Nasdaq 100 futures rose 3.5 points.
Both the S&P 500 and Dow Jones industrial average hit five-year closing highs on Tuesday, and recent gains have largely been fueled by a strong start to the earning season. The S&P has jumped 6.4 percent over the past four weeks.
Republican leaders in the U.S. House of Representatives aim on Wednesday to pass a bill to extend the U.S. debt limit by nearly four months, to May 19. The White House welcomed the move, saying it would remove uncertainty about the issue.
The debt limit issue has been viewed as a market overhang for the past few weeks, with many investors worried that if no deal is reached to raise the limit, it could have a negative impact on the economy.
Bank and commodity shares led the benchmark Standard & Poor's 500 Index to a fresh five-year closing high on Tuesday on hopes that the global economy continues to mend.
REUTERS