Imo State Traditional Ruler Converts To Islam, Gives Reasons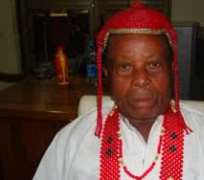 Chief Sylvester O. Dimunah, the vice chairman of the Council of Village Heads in Imo State, has been converted to Islam.

The traditional ruler, whose name is Musa Dimunah now, said that the truthful nature of the religion, is the reason why he made the switch. He revealed that the good character of Malam Ibrahim Biobonlomije, the former secretary of the council and the executive secretary of Justice Mamman Nasir Islamic Centre for Peace and Research influenced his decision to embrace Islam.

"I did not accept Islam, I only revert to the religion that our forefathers practice and the universal religion of humanity. I'm impressed by the good nature of Muslims' love for everybody and hatred for none apart from the way they revere Allah and all the Prophets without discrimination," he said.

"I am also impressed by the brotherhood and mutual respect for each other and other members of the community."

He however insisted there was no pressure to change his name, after he became a Muslim.