FEDERER, WITH STRANGE TAG, STILL WANTS TO 'TAKE CARE OF BUSINESS'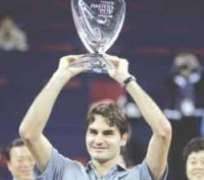 As Nadal remains man to beat
A FEW hours after 'home boy' Andy Murray got his ATP finals campaign to the best possible start by spanking in-form Robin Soderling of Sweden in two straight sets 6-2, 6-4 in Group B's opening round-robin stage match before a partisan O2 ARENA London crowd, Switzerland's Roger Federer, who is undeniably one of the most charismatic men ever to wield a tennis racquet, did just enough to outdo fifth seeded Murray by recording an even more impressive win over Spain's seventh seeded David Ferrer, whom he outclassed 6-1, 6-4 in the other Group B match.
Even though it still feels strange for many, including tennis purists, writers, broadcasters, and fellow players to introduce Federer as world number two after the Swiss superstar had maintained a rather long stranglehold on life at the top, having been at the pinnacle of the world rankings for a total of 285 weeks between April 2004 and July 2010 (one week shy of American 'Pistol' Pete Sampras's record of 286 weeks in the all-time list of world number ones), second seeded Federer stepped on court and showed glimpses of his marvellous past in dismissing any kind of challenge from former world number four, Ferrer.
As if he desired to show reasons why his admirers expect him to fight next year to snatch the world number one ranking back from the all-conquering Rafael Nadal, winner of ATP-best seven titles, including the last three Grand Slam tournaments, Federer, despite displaying the smoothness and style, which has long endeared him to tennis faithful around the world, was ruthless, especially in the opening set, which was over in 33 minutes.
The Swiss, winning his serves so easily, he averaged two minutes to prosecute each service game, made life difficult for the Spaniard who battled fruitlessly to win his own service games. After Ferrer was broken in his first two service games, the score had reached 4-0 when Federer threatened to extend his lead to 5-0 as he led 40-0, only to lose his serve on five great points strewn together by the Spaniard to recover one of the two service breaks against him.
But the Spaniard's suddenly renewed hopes did not last long, after Federer, always putting his opponent's serves under all kinds of pressure with some deep and crisp returns, broke through again in a game which lasted all of nine minutes and 37 seconds. And Federer himself was not about to lose concentration for the second straight service game, as he held serve to love, ending the proceedings with an ace down the T, incidentally his lone ace in the set.
The second set was more competitively respectable until Federer seemed to switch gear to break his opponent in the fifth game for a 3-2 lead. This time the Spaniard, who as an underdog at the ATP World Tour Finals in Shanghai three years ago, had surprised everyone by going all the way to the final where he lost to Federer, fought right back, as the Swiss needed to save as many as five breakpoints before finding his range to win on his own fourth game point in a game which uncharistically lasted eight minutes and 39 seconds.
After Ferrer held serve and Federer served at 4-3, the Swiss unleashed only his third ace of the match to lead 40-0. Again, Ferrer, this time helped by two lucky breaks occasioned by the net chord, fought back to deuce, before Federer secured advantage with a magnificent one-two punch combination of a blistering serve, which opened up the court, followed immediately by a killer forehand winner.
With his fourth ace, Federer was on the driving seat, and even though Ferrer hung tough by holding serve to narrow the second deficit to 5-4, Federer appeared poised for just one more game - on his serve.
Not so fast, the fit-fighting Spaniard seemed to reason, as Federer was quickly behind 0-30, and then faced two break points at 15-40. At this stage, Federer could not buy a first serve, but he managed to save the first of the two breakpoints with a gutsy running backhand cross court winner. When his first serve returned for the first time in the crucial game, it was a service winner down the T, which made it deuce.
Federer then hit a routine forehand down-the-line (by his own lofty standards) wide and faced another breakpoint. Another first serve made it deuce again. Yet another first serve gave the Swiss maestro an advantage, before he ended the match with a thunderous ace down the T, his sixth of the match, and it was all over in one hour and 27 minutes.
With the victory (Federer's eleventh in as many career head-to-head confrontations), the Swiss leads Group B with the closest possible margin, having allowed his opponent one game less than Murray had done in setting aside Soderling's feeble challenge in the earlier Group match.
Although Ferrer had never beaten Federer, the determined Spaniard had taken the Swiss the whole distance (in Boxing terms) in their last three encounters before Sunday's match, with Federer winning their latest match 7-5, 3-6, 6-3 in the semi-final of this year's Madrid Masters 1000 event.
The earlier Group B match between Murray and Soderling, who only last week won the Paris Masters, thereby leap-frogging the former on the ATP Rankings, was surprisingly one-sided. After winning his first two Group round-robin matches in two straight sets last year at the same ATP Tour Finals in London, Serbia's defending champion Novak Djokovic (one of Soderling's victims) immediately told reporters he had just played against 'the best players in the world at this moment.'
On Sunday, against Murray, Soderling was anything but unbeatable. If anybody was looking unbeatable, even if it is still early days, that player is 23 year-old Andy Murray, who looked so invincible at a stage during his demolition of the hard-hitting Swede; he treated his home fans to an audacious, crowd-pleasing half-volley drop shot from well behind his own baseline which beat the deceptively-quick Swede flat.
Neutrals in the stands called it showboating, and I could not argue. But he won the point; that is the bottom line. In any case, didn't Nigeria's ace sports philosopher, Prof. (Mrs.) Ikulayo, say the other day that 'you are only as good as your opponent lets you'?
The eight-man ATP Finals involving the very best eight players in the world continues.
Question Jams Answer
American John McEnroe, eight times Grand Slam champion in Singles, greatest Men's Doubles player ever, nowadays an influential tennis commentator cum analyst on Television, and a self-confessed 'huge fan of Roger Federer and Novak Djokovic,' last week said Rafael Nadal is better than Federer. Another legend, Bjorn Borg of Sweden appears to be saying the same thing.
Pray, where does all that leave talk of Federer being the Greatest-Of-All-Time? Is there an end to this debate, or is it just beginning?
— Words of veteran broadcaster, Dele Adetiba, tennis faithful and former Chairman, Ikoyi Club 1938.