CLOSE ENCOUNTERS WITH HIV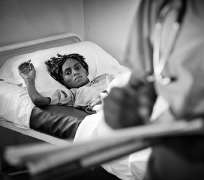 Local churches should network in the war against the virus. When Christians have a close encounter with families hit by HIV/AIDS, one of the first responses is not mere tears, but weeping. Kay Warren and Lynne Hybels know the power of a weeping Christian. At different times, these wives of prominent megachurch pastors Rick Warren and Bill Hybels have traveled thousands of miles across southern Africa, the epicenter of HIV. They saw, smelled, and touched the HIV pandemic. And they wept. "The virus is the enemy," Kay Warren said recently at Saddleback Church's HIV/AIDS conference, Disturbing Voices. Last July, First Lady Laura Bush toured Africa and met with Tatu Mukeshimana, a Rwandan girl orphaned by HIV. Abandoned by her relatives, Tatu quit school and was selling tomatoes in the market when Rwandan Quakers took her in. In July, Mrs. Bush told reporters it was very hard, but she kept her emotions in check as she met with Tatu and other orphans.
Stigma still exists: For evangelicals, the time to lose our composure has come. Jesus wept over Jerusalem. We should weep over what HIV has done to families across every time zone on our planet. We should weep over our inaction, our inappropriately judgmental attitudes, and our reluctance to work with people who don't look or behave like we do. For the next 25 years at least, a rapidly growing number of people will be living with HIV. The infection rate is 14,000 new HIV cases daily. Right now, 41 million people are HIV positive worldwide.
Stigma in the church still exists. In Nigeria, medical students surveyed Christians nationwide and asked, "What should be the attitude of religious bodies to HIV/AIDS patients?" Some 52 percent of those surveyed replied, "They should be suspended [or] disciplined." One lifelong Nigerian Christian confided to his pastor about being HIV positive. On the next Sunday, he was publicly banished. He said, "A lot of us from the church [are] rejected, despised, frustrated by the very church where we expected love." There is a bit of hopeful news about American evangelical attitudes. According to a 2004 Barna/World Vision survey, more evangelicals than ever before expressed strong interest in donating to HIV/AIDS education and prevention. But still, a stunning 59 percent of surveyed evangelicals expressed indifference or were unsupportive of HIV/AIDS causes overseas.
Wes Stafford, president of Compassion International, says, "In Uganda, I held a newborn baby girl in my arms. She was burning with fever. If there was ever an innocent in the world, it's a little newborn girl in Africa dying of AIDS. God's church must address the HIV/AIDS epidemic and engage every possible resource with courage, commitment, and total resolve." There are many places to start. If leaders in our churches talked about the realities of HIV more openly, it would reduce the shame associated with having the virus. If churches helped people get free, confidential testing with counseling - if churches created within their buildings an open-to-all place of safety and emotional shelter - people with HIV would come to experience the church as the body of Christ.
If Christians through their churches would befriend persons at high risk for HIV infection, those individuals might think twice about engaging in high-risk sexual behavior or abusing street drugs. If churchgoers routinely visited people with HIV/AIDS and their families, the passionate concern of Christ for the sick would be made real to them. After 20 plus years of heroic lab work, modern science is arm-wrestling with HIV and losing. The promise of a safe and effective vaccine against HIV is almost in the realm of science fiction. More people than ever before are using life-sustaining, anti-retroviral (ARV) drugs. But the growth rate of new infections outpaces modern medicine by a wide margin. The condoms-dominant prevention strategy is also failing. Researchers are finding compelling evidence that people who engage in high-risk sex may gain a false sense of security anticipating the supposed benefit that condoms and ARV drugs provide. Without a renewal of biblical values, drugs and condoms alone will never stop this pandemic.
One church, one disease: Defeating HIV is going to take generations of the faithful. How will Christians decades from now look back on what we did and did not do through our families, churches, and governments? What will they say about us when Americans decided that $15 billion over five years was all they are willing to spend to defeat HIV globally? (Experts believe it will take $12 billion a year from all sources to defeat HIV globally.) How much and what are Christians in Nigeria doing to reduce HIV epidemic?
Look at what one organization has done to defeat one disease. Rotary International has been fighting polio since 1979. It has developed a global volunteer force to partner with health agencies to eliminate a single disease. In 1988, there were 350,000 polio cases. At the end of 2005, there were 1,670 cases worldwide - better than a 99 percent reduction. There are 1.2 million Rotarians around the world. Imagine what 2 billion Christians might accomplish as one faithful force against one disease. Imagine the possibilities for proving church-mocking skeptics wrong. Imagine closed doors opening for the gospel. Imagine the lives saved. A world in the ever-tightening grip of HIV doesn't stand a chance without us. Have question you may call: 08033399821 or write: [email protected] Stay blessed.
Written By Dr. Lewis Akpogena

Disclaimer:

"The views/contents expressed in this article are the sole responsibility of

thewillnigeria.com

and do not necessarily reflect those of The Nigerian Voice. The Nigerian Voice will not be responsible or liable for any inaccurate or incorrect statements contained in this article."
Articles by thewillnigeria.com