Relief Workers Slowly Access Conflict-Hit Delta Creeks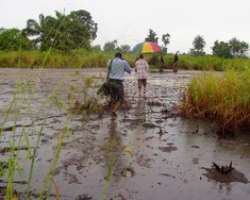 By Efosa Martins, Benin
The Nigeria Red Cross says conflict-hit areas it has been able to access in the Niger Delta are in better condition than anticipated, but that continued restrictions on aid workers' movement leaves many questions unanswered.
Government soldiers are controlling access in and out of the Delta, site of a military incursion launched on 13 May to crack down on Movement for the Emancipation of the Niger Delta (MEND) militants.
The military on 26 May granted Red Cross staff access to seven communities in Delta state.
But they were not permitted to access Okerenkoko, believed to be the heart of much of the fighting.
Most aid agencies, including Médecins Sans Frontières, are holding off entering the area until their security can be guaranteed.
"The failure to let humanitarian organisations into areas where violence is claimed to be the worst, discredits Joint Task Force claims that the civilian population is not impacted by their operations," said Joseph Croft, director of rights-group Stakeholder Democracy Network.
Conditions
See timeline of events in Niger Delta
Egbero Ococity, secretary of the Nigerian Red Cross in Delta state, told IRIN he saw burned houses in the Delta villages of Korte and Oporoza, where he said militant chief Tom Polo's house was burned. But "the situation was not as bad as we were made to believe before we got there," he said. "There were houses still standing."
He added: "We saw the people, those that were left behind..It was the first time they were getting any help since the current crisis started, and they were very happy."
"They appealed for more help, particularly for medicines and food."
Residents the Red Cross met were clearly "shaken", Ococity said. "There was fear in them and it was very obvious."
Some people have told rights groups they saw government forces kill civilians.
Col Rabe Abubakar, spokesman for the special military force in the Delta, told IRIN: "It is absolutely not true that we deliberately killed civilians.The people who claim the army has been killing civilians are people who have lost out in the criminal activities of the militants and now want to paint the military in a bad light."
He continued: "We are doing this to secure the region for everybody including the civilians who had been held hostage for a very long time by these so-called militants."
Croft told IRIN: "This incursion is a serious escalation and we would be very surprised if fewer than 100 civilians have been killed - and it could easily be more."
It is difficult to ascertain the number of dead because of lack of access, dangerous waterways and conflicting accounts by government forces and MEND, an umbrella group representing a number of militant factions, say observers.
Many of the estimated 300 displaced people who fled last week to Warri capital Ogbe Ijoh - still sheltering in a primary school - told IRIN they want to go home but they know it is not yet safe to do so.
"We want to start rebuilding our lives as soon as possible," Patricia Ngwe told IRIN. "But we don't know how soon that will happen because the military operation is still ongoing....I pray that this would happen very soon."
C.IRIN
Facts

Unrest in Niger Delta region has reduced Nigeria's daily output to 1.8 million barrels in 2008 (Sucden financial research brokerage, London) compared with 2.6 million barrels in January 2006
The government lost $23.7 billion to attacks, oil theft and sabotage in the first nine months of 2008 (Government Technical Committee)

Up to 1,000 people killed in clashes in the Delta in the first nine months of 2008. The same year saw 92 attacks on the oil industry up by one-third in 2007 (International Crisis Group)
Nigerian waters are second only to Somalia's in terms of danger to attacks (International Crisis Group)

At least 100,000 barrels of oil are stolen every day through bunkering, (Mohammed Umar, oil industry analyst); Human Rights Watch says 300,000

Nigeria recorded 1,260 oil spills between 2006 and June 2008, 419 of them in the first half of 2008, reflecting a "progressive trend" of theft and sabotage (Nigerian Environment Minister)
|
Article source