Senate Blames Bankruptcy Of States On Corruption Of Governors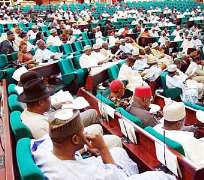 …Seeks Upward Review of Revenue Formula For Govs.
ABUJA, July 12, (THEWILL) - The Senate on Thursday blamed the imminent bankruptcy of some states on corrupt practices of their governors, saying that no state ought to be bankrupt, judging by the combination of their collections from the Federation Account and their internally generated revenues.
Considering the report of its joint committee on the looming danger of bankruptcy in states and the need for fiscal evaluation, the Senate, however, advocated an upward review of the current revenue allocation formula.
The joint committee that investigated the bankruptcy of states were National Planning, Economic Affairs and Poverty Alleviation; Appropriation; Finance; States and Local Government, all chaired by Senator Barnabas Gemade.
Findings by the committee revealed "a high rate of corruption and corrupt practices through misappropriation and misapplication of public funds, abuse of immunity clause by some state governors, and the incapacitation of the various anti-graft agencies through political subterfuge."
As such, the Senate resolved that the cost of governance should be lessened by reducing recurrent expenditure, particularly as it concerns the number of political aides. It suggested the harmonisation of the functions/activities of Ministries/Department/Agencies (MDAs) as well as elimination of the syndrome of ghost workers at all levels.
"The Legislature should consider appropriate legislations limiting the total exposure of states to external and domestic borrowing to not more than 20 per cent of their allocations from the federation account. Such borrowings should be for economic projects only, and [should be done] only when it is absolutely necessary. Furthermore, there should be strict compliance with the relevant provisions of the borrowing by Public Bodies Act."
The committee revealed that records available from the Debt Management Office revealed that as at December 2011, the total external debt stock of all states (multilateral) stood at $2.165bn, and that most of them are equally highly indebted to various local banks in short-term borrowing and are substantially exposed to capital market.
Advocating a review of allocation of revenue, the Senate said, "The revenue allocation formula presently in operation should be reviewed. It should be reviewed periodically in accordance with Sections 313 and 315 of the constitution of the Federal Republic of Nigeria 1999. The review should be in favour of states and local government councils with increased responsibilities arising from further dissolution of powers."
The Senate also implored states to diversify their economies in order to enhance internally generated revenue in such areas as agriculture, tourism and solid minerals. It was also resolved that grants, stabilisation funds and allocations from the Excess Crude Account to states should be targeted at economic projects that have direct impact on the people.
In his remark after the adoption of the report, deputy president of the Senate, Ike Ekweremadu, who presided at plenary, branded most of the states as bankrupt.
"I used the word advertently because most of the states can't meet their obligations. But the truth is that they are not supposed to be bankrupt because of the available resources, which have not been tapped into; and because of wastages that is inherent in the system," he said.
"States, local governments and the federal government must apply the limited resources judiciously for the good of our people. Essentially, no state is supposed to be bankrupt but as we can see today, because of mismanagement of funds and resources, we have problems with government meeting up with obligations to the people."
Commenting also, Senator Smart Adeyemi said he listened attentively to the report and was waiting to hear if allowances of some governors would be mentioned.
"There are governors that collect between N200m and N500m as security votes; and when you have such situation, I do not believe that such state is bankrupt," he said. "I want to say that it is not the amount of resources available that determines the performance of any governor; it is management and focus. We have states today that are not oil-producing but they are doing very well."
He lamented that although states have, in the last three years, been receiving far more than they received as allocation eight years ago, not so many governors can boast of setting up agro-allied industries for their people.