WHERE IS LUCKY?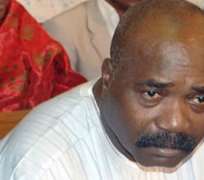 By Emmanuel Aziken, Political Editor
THE forthcoming gubernatorial election would soon be a past event, but the question of the whereabouts of one of the major political forces in the state has continued to be a mystery.
After Capt. Hosa Okunbo yesterday came out to openly endorse the PDP candidate, Gen. Charles Airhiavbere against the aspiration of his friend, the incumbent, the main man that is yet to speak out now remains Chief Lucky Igbinedion.
Igbinedion
Igbinedion's voice in the election is especially significant given the fact that he was the longest serving democratically elected governor of Edo State. Should Adams Oshiomhole be re-elected he would be in pole position to equal the eight years that Igbinedion spent as governor between 1999 and 2007.
Even though Igbinedion has not spoken the footprints of his political empire are all about the incumbent with his Man-Friday, Pastor Osagie Ize-Iyamu serving as Director-General of the Oshiomhole Campaign Organisation.
It is remarkable that with the Igbinedion boys all around him, that the same men continue to refer to the years of PDP as the years of the cankerworm and caterpillar.
How the comrade-governor has been able to extricate himself from such allegations of hypocrisy has been really remarkable. In an interview with Vanguard last April, Oshiomhole robustly rebutted references of a contradiction in his characterization of the PDP.
'The answer is simple. The Governor in a presidential system has so much power which decides the character of his cabinet. If he chooses to have a cabinet that is incompetent that is his problem. For example I decided from the onset that I am going to bring in people with specific skills in those areas that we have identified as our priority areas.
I decided that you must be a professional to handle key ministries. Some people did not quite agree with it because of politics. But I believe that some of the skills you need to win election may not be the skills you need to run an efficient and competent government.'