I Didn't Want To Join The Police-Ngozi Braide.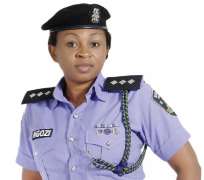 The Lagos State Police Command PPRO, Ngozi Conchita Braide, is the first female spokesperson in Lagos. The beautiful Igbo woman has since been making waves ever since she became the PPRO.
This Deputy Superintendent of Police, Braide joined the Nigeria Police on August 15, 1996 as a Cadet Inspector. Before she was named the Police Public Relations Officer for Lagos State, she rose to become the Sectional Head of Oil & Gas Fraud Section of the Special Fraud Unit and was there from 2007 till 2012.
Now as the command image-maker, the delectable woman has confessed that it's a herculean task on her shoulder, "my phone rings non-stop and I have to answer it because I do not know who may be in distress. I am not complaining. I love what I do but like I said it is part of my work schedule and I am not complaining." She said.
"It was not my making. I really did not want to join the police but one day when I was still in school, my mother told me that she likes the police and would like me to join as a cadet officer. So that was how I joined the police. Initially, I did not like it but I am grateful now and I have no regrets about joining the police." She concluded