Sanusi Defends Donations To Boko Haram Victims, Says It Had Legal Backing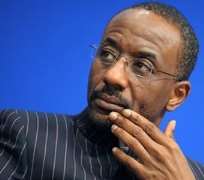 ABUJA, June 18, (THEWILL) - Governor of the Central Bank of Nigeria (CBN), Mallam Sanusi Lamido Sanusi on Monday defended his donations to victims of the Christmas Day 2011 bomb blasts in Madalla, Niger State, and another blast in Kano State, saying they are in line with the Act establishing the Bank.
The CBN governor had in February 2012 donated the sum of N100 million to victims of the Kano attack and another N25 million to victims of the blast in Madalla, Niger, through their respective state governments. In 2011, he also gave a N620 billion loan to distressed banks.
Appearing at the Federal House of Representatives investigative hearing on the expenditure of public funds by the CBN and the Asset Management Corporation of Nigeria (AMCON) without approval by the National Assembly, Sanusi claimed that his actions were within the confines of the law, arguing that the CBN had always intervened in the economic development of the country.
"The legal basis for CBN intervention in certain sectors of the economy is contained in section 31 of the CBN Act 2007," he said.
Speaker Aminu Waziri Tambuwal, represented by Hon. Samson Osagie, said the essence of the hearing was to ensure accountability and fiscal discipline among institutions and not to witch-hunt any individual or group of persons.
But minority leader of the House, Hon. Femi Gbajabiamilah disagreed with Sanusi, arguing that while the lending to distressed banks, donations to victims of bomb explosions and lending to private sector organisations may be necessary, the legality of these actions were questionable as long as they had no legislative imprimatur.
Gbajabiamila said the CBN was operating on a "blank cheque" by refusing to follow the due process of the law as enshrined in the 1999 Constitution. He stated that even in the United Kingdom and United States where apex banks intervened in the economy, they did so with the active participation of their parliaments.
He argued that it was this collaboration that resulted in the Economic Stabilisation Act passed by the United States Congress in the heat of the global economic crisis, lamenting that the CBN appeared to have been hiding under the loophole of institutional autonomy in carrying out its controversial actions.
He then urged CBN to distinguish between autonomy and accountability, saying the Bank's autonomy does not preclude it from accountability.