INFORMAL WORKERS CALL FOR MASSIVE INVESTMENT IN CRITICAL SECTORS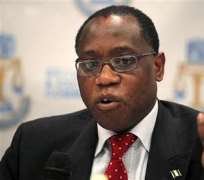 By VICTOR AHIUMA-YOUNG
FEDERATION of Informal Workers of Nigeria, FIWON, has called for massive investment in the critical sectors of the economy and called on the government to ensure a conducive working environment for workers especially those in the informal sector.
The umbrella body for the informal workers in the country specifically demanded investment in decent work place, basic shelter, potable water and storage facilities to provide conducive working environment for them.
FIWON, in a statement by its General Secretary, Comrade Gbenga Komolafe, to mark 2012 Democracy Day, lamented that despite the fact that the informal sector constituted over 80 per cent of the Nigerian population contributing over 65 per cent of the Gross Domestic Product, GDP, their working environment remained makeshift, hazardous and precarious with oppressive regulatory controls.
According to the statement, whereas informal workers constitute over 80 per cent of the Nigerian population contributing over 65 per cent of the GDP, the environment of work of informal workers  remain makeshift, hazardous and precarious; regulatory controls remain oppressive, contradictory and uncoordinated with informal workers suffering needless harassment, intimidation and extortion in the streets daily.
Minister of Trade & Investment, Olusegun Aganga
Infrastructures and services remain primitive and hazardous in the absence of decent public toilets, potable water, electricity, sanitation and good decent workspace including storage facilities; social protection especially health insurance, disability and old age pension are non-existent while the elitist governance structures have no space for informal workers' representation with appropriate bargaining framework, not even at the level of local governments that are supposed to be the closest governance structure to the grassroots informal economy operators.
'The over 70 million people toiling away in the informal sectors of the economy in Nigeria, in the light of the foregoing therefore, on this occasion of 2012 Democracy Day, calls on all tiers of government in Nigeria to invest more in the provision of critical infrastructure especially decent work spaces with sanitation, basic shelter against the elements, potable water and toilet as well as storage facilities to provide conducive working environment for informal workers.
'As the Nigerian government proceeds to the International Labour Conference of the ILO in Geneva next month where a new recommendation on a minimum provision for social protection would be adopted, it is also important for the government to key into this global campaign for minimum social security provision for healthcare, disability, and old age by putting appropriate mechanisms in place for implementing these.
'In this respect, we reiterate our call for social pension for those aged 65 years and above, as well as the disabled, and broadening the scope of the National Health Insurance Scheme to include informal workers. This only conforms to Section 16 (2d) of the Nigerian constitution which states 'that suitable and adequate shelter, suitable and adequate food, reasonable national minimum living wage, old age care and pensions, and unemployment, sick benefits and welfare of the disabled are provided for all citizens'.