Hellen Paul: I Don't Know About Fashion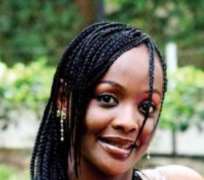 Helen Paul is a comedienne, singer, actress, dancer, compere, playwright, and journalist hail from Nigeria. She is best known as a stand-up comedienne and popularly known as Tatafo. Her style is quirky and spontaneous, and her petite stature and voice range make her childlike. She is a graduate of Theater Arts of the University of Lagos.
What is happening to Helen Paul?
A lot of things are happening now because my first show is coming up on Sunday, 27 May, this year. It is tagged Helen Paul & Tatafo Live and will be held at the MUSON Centre, Lagos. It is also going to be a star studded affair because the likes of Ali Baba, Gbenga Adeyinka, AY, Teju Babyface, Princess Mandy, Koffi, Owen Gee, Bovi and Sound Sultan will be performing among others.
During the show, I will also launch my debut album to fans. All guests at the show will get one copy of the album each for free. So basically, there are many good things happening to me now.
Are you going into music as part of what some comedians are doing now?
If you have any gift, its better for you to use it; showcase it and see what God can also do through that. There is nothing bad trying to bring out different talents inside of you.
The fact that you are a playful person, did it ever cross your mind to toe that line?
Well, not as a comedian. I never saw myself as a comedian because aside that I play a lot, I have this sanguine attitude, though inside I am more of a choleric.
But people enjoy the sanguine side of me more. I was basically always having it in mind that I was going to be an actress or someone who was going to sing or lecture children someday; that was my dream but when this happened I said fine; that's good. I thank God comedy is still part of acting and all that.
Your fame has been rising. Have you had difficulties handling it?
Well, I have not started seeing myself as a big star yet because I still walk freely on the streets and I know of stars who can't walk freely on the streets. The challenge basically is that some people expect more. May be they expect so much from you but they don't get it. And they forget that you are human and that the fact that you perform on stage doesn't mean you don't have attitude. They expect you to always have that perfect, prim and proper attitude and I am still praying to God to help me strike a balance. I am not Jesus Christ.
How were you able to combine your art and studies while you were in Unilag?
Most of the time I would say to myself that God should just let me do the right things at the right time, at the right place and with the right set of people. So, when it was time for lectures, I went for them. Though it was not easy, I tried to make sure I didn't miss lectures. However, it is not every time that you have events or engagements to honour. So at such times I sat down and read or went for Arts rehearsals, we do more of practical so you need to be around. And I was always enjoying my practical. So things were just working together for the better.
How did you carry yourself among your colleagues as a popular face?
Me I don't know o. I was just myself playing with everybody and cracking jokes and yabbing everybody. Some liked it and some did not like it and I know in life, everybody can't like you, so I was just enjoying myself. I am free-spirit-minded-happy-go-lucky girl.
How do you now cope with the trend since you didn't plan to be a comedian?
Sincerely, I will not say this or that is the particular thing I do. I will just say it's God at work. When they invite me for shows I just see the crowd and flow with it. I think I just like to play on stage. And before I know it, things would have started happening. What I just know is that it's not by power but the grace of God. There are no 10 secrets or 20 ways to become a comedian that I read. I am a spontaneous person; right there and then I just look at you and crack jokes.
So how did you become an on-air-personality?
That also I did not know I was going to do. I went to visit a friend, Matthew, in the studio and he said 'Helen this your voice that we use to play and do Amebo with, why don't we use it to do something I was actually dreaming of. Everything was just coming one by one and I believed more was still coming.
Do you have plans to go into movies seriously?
Yes, I really want to be an actress. It is not an easy thing because sometimes you go to a location for a period of time as planned, but you end up staying so much longer and all that. So I am still trying to get prepared. But I have done one movie with someone I admire so much in the Yoruba movie industry. That is Funke Akindele. She cast me for a role and I passed and I was very glad.
What differences were there while you were a spinster and now that you're married with a son?
There is a difference. That time when bros would come and check me in school, he would bring cornflakes, milo and all sorts of things. Sometimes it would be raining and I would tell him to hold on while I quickly apply my powder and rush to see him downstairs. But now, I will be the one to cook in the house. And when he's coming home, though he still buys apple, orange and what have you, the beauty that your boyfriend bought you ice cream and all that and your room mates are screaming he loves you is no longer there. So I miss that (laughs). But I am enjoying myself in the house because every woman wants to be married. Being a mother is also one of the best things that have happened to me. Though it is quite challenging, God has given me the strength to continue, so I'm happy.
Who are your favourites in the comedy world?
They all have their qualities. For Koffi, I admire his maturity at handling issues. For Julius Agwu, I admire the fact that he doesn't want to believe he's old so he's still keeping on with the young ones. For Alibaba the daddy, I admire him for bringing people together as one. Omobaba, fine boy, I admire him so much, especially the way he plays with himself. Lepacious Bose and Princess I also admire, they all have their uniqueness.
Where do you hope to see yourself years to come?
I really don't want to boast, but I don't see myself as an ordinary being. I see myself as a great blessing to my generation and five, 10 years from now I will be standing strong, making things happen because God is going to use me that is all I know. You don't need to be a pastor before God uses you. I want people to see me and say 'God, I thank you for this girl.' That is what I want.
How fashionable would you say you are?
I don't know about fashion o. I just wear my clothes and go my way. Some will say I am fashionable and some will say I am not. All I know is that I just wear my clothes and remain happy with myself. Some people are not happy with what they wear, but I do