German Economy Succumbs To Euro Gloom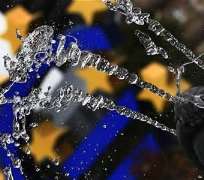 German business sentiment collapsed in May and the manufacturing sector shrank as turmoil in the euro zone unsettled firms, threatening to end the immunity of Europe's largest economy to the troubles surrounding it.
Germany's "Teflon economy" has so far avoided the fate of its European peers thanks to strong exports to other parts of the world and healthy domestic demand, and data confirmed on Thursday it grew 0.5 percent in the first quarter.
But its prospects have begun to look less rosy as the euro zone crisis escalates and a potential Greek exit from the single currency is openly discussed.
"German businesses have woken up to reality: islands of happiness might exist, economic islands within the euro zone hardly," said economist Carsten Brzeski at ING in Brussels.
"For the last couple of months, it had seemed that the Ifo index painted a too positive growth picture. Today's Ifo reading has corrected this picture in one fell swoop."
The Munich-based think tank's business climate index, published on Thursday and based on a monthly survey of some 7,000 companies, fell to 106.9 in May from 109.9 in April.
This was well short of even the most conservative forecasts, the first drop since October last year and the steepest fall since August. The data sent the euro to a 22-month low.
"The (drop) was a surprise even for us. It's down to the increased uncertainty in the euro zone," Ifo economist Klaus Wohlrabe told Reuters. "There are significant uncertainties due to the euro crisis."
A sub-index on the current situation fell to 113.3 from 117.5 and firms told Ifo they were more pessimistic about their prospects, with an expectations reading dropping to 100.9 from 102.7.
SHAKEN OFF RECESSION
Germany has enjoyed strong economic growth throughout much of the sovereign debt crisis. In the first three months of the year the economy grew by 0.5 percent, comfortably shaking off recession fears after it shrank by 0.2 percent at the end of last year.
Economists saw that dip as a glitch, but Thursday's sentiment and factory data signaled that the euro zone crisis is weighing more heavily.
The pickup in the first quarter rested on private consumption, up 0.4 percent on the quarter, and strong exports, up 1.7 percent after falling 1.5 percent at the end of last year.
Demand for Germany's high-quality goods and products, especially from outside Europe, hit a record monthly level in March, and Ifo's Wohlrabe said export expectations, supported by a weak euro, provided some hope.
But sentiment indicators have painted clouds on the horizon for some time.
Figures last week showed investor morale falling sharply in May, ending a run of strong data for the economy as political uncertainty at home and abroad also takes its toll on confidence.
The manufacturing sector in Germany, home to machinery makers and globally-renowned car companies, shrank at the fastest rate in three years in May, according to the Purchasing Managers' Index also released on Thursday.
The European Commission forecasts the euro zone economy will shrink by 0.3 percent this year before returning to growth next year. It forecasts 0.7 percent growth in Germany this year, in line with government forecasts but lower than many institutes.
The silver lining for Germany remains its export industry, which would gain further in competitiveness from a weaker euro.
"Undoubtedly, the signs are mounting that, at least temporarily, some softer momentum in the German economy is under way," said Andreas Rees of Unicredit. "(But) it would be outright wrong to ring the death (knell) for the German economy or to make strongly negative statements today."
REUTERS