Minister Cautions Food Lovers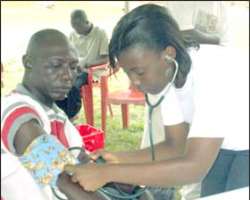 MINISTER of Health, Dr. George Sipa Yankey has sternly cautioned gluttons to change their bad eating habits, warning they stand the risk of getting liver diseases.
"Excessive food intake may lead to obesity which is linked to diabetes. It can also be connected to the build-up of fat in the liver," he observed.  
Dr Yankey who was speaking at the launching of 'Save Your Liver Foundation' (SYLiF), a Non Governmental Organization (NGO) in Kumasi to educate people about ways to prevent liver related ailments, admonished Ghanaians to reduce their red meat and high fat diets or face serious health repercussions.  
The liver is the largest glandular organ of the body which performs over 500 vital functions prominent among them being   bile production, an alkaline compound which aids in digestion by processing food from the intestines among other functions.  
Dr. Yankey also warned against excessive consumption of alcohol as it the cause for nearly half of all liver diseases.
"Science has proven that consistent heavy drinking can lead to what is known as a fatty liver in which the liver cells become engorged with excess fat.
More seriously it can lead to an inflamed liver, alcoholic hepatitis or a permanently scarred and damaged liver from cirrhosis."
He suggested, "apart from watching your diet, weight and alcohol consumption, you are advised to get vaccinated against Hepatitis B, a form of Liver disease."  
The Health Minister commended the SYLiF for taking the bold step to help wipe out liver related diseaseswhich is on the rise in the country, promising his outfit's readiness to play valuable roles to help sensitize the populace about its dangers.  
More than 300 people including the elderly were screened free of charge for liver diseases after which those with complex liver disorders were referred to the hospitals for immediate and thorough treatment.  
Prince Nicholas Mensah, Chairman of SYLiF called on policy makers to work hand-in-hand with his outfit to intensify liver health education across the country so as to save lives.
He appealed passionately to well-endowed individuals and corporate institutions to support SYLiF carry out its plans saying, "There is currently no funding for liver health education in Ghana."
From I.F. Joe Awuah Jnr., Kumasi