FG To Spend $1bn On 1000km Of Gas Pipeline - Alison Madueke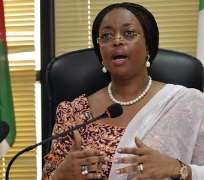 ... Oil Reserve now 37 billion barrels
SAN FRANCISCO, May 22, (THEWILL) - As part of efforts to ambitiously transform the country into the industrial hub of Africa, the federal government has revealed that about $1.bn will be spent on gas infrastructure for projects that will significantly improve the power and industrial sectors of the economy.
Minister of Petroleum Resources, Mrs Diezani Alison-Madueke disclosed this during the ministerial platform organised in Abuja to commemorate the first anniversary in office of President Goodluck Jonathan.
Alison-Madueke noted that the present administration, in the spirit and letter of the transformation agenda, has embarked on the most aggressive expansion of the domestic gas infrastructure in 30 years creating a platform to transport over 2billion cubic feet of gas per day within the next 24 months
.
According to her, 136km x 36inch permanent gas pipeline from Oben to Geregu has been completed, creating a major sharp artery to the Geregu Independent Power Plants, Dangote's Obajana cement and other potential industrial customers, adding that this line will provide arterial supply to the North once the Ajaokuta-Kano line is completed.
She further stated that two other critical pipelines that will be concluded shortly include Itoki-Olorunshogo 31km x 24inch gas pipeline and 104km x 24inch Escravos-Warri gas pipeline expansion.
"By the time the two pipelines are completed in the next few months, a permanent solution would have been found to the challenge of gas supply to the PHCN and NIPP power plants at Olorunshogo as well as supply to Ewekoro, Abeokuta and environs for industrial capacity growth and to double the existing transmission capacity to 600 mmcf/d and immediately add about 80mmcf/d additional gas supply to the grid from Escravos," she said.
"Three other major gas pipeline projects that are ongoing and progressing steadily are the doubling of capacity to 2bcf/d of ELPS from Oben-Ore-Lagos, through the 320km x 36inch pipeline construction and NNPC/Total JV pipeline from Ubefan to Imo River via Obigbo. Also, the administration recently awarded the 120km x 48inch Ob/Ob-Oben East West gas pipeline contract."
The minister said that close to $1bn had been invested in almost 1000km of gas pipeline development, adding that the NNPC/Total JV Usan Floating Production and Storage System (FPSO), the fifth in the Nigeria deep offshore region, was recently commissioned and is currently producing 103,000 barrels per day.
"The federal government has continued to invest in increasing the country's oil reserve to meet its target of 40 billion barrels of oil and crude oil productivity of 4 million barrels per day," she added. "The aspiration is to grow crude oil reserve to 40billion barrels. Collectively these projects have added about 1.5billion barrels bringing the national reserve to 37 billion barrels."
Going forward, Mrs Alison-Madueke noted that the federal government's effort at encouraging indigenous participation in the oil and gas industry is aggressively yielding positive results with the establishment of an oil terminalling facility (the Ebok terminal), with current daily crude oil production of 7,000 barrels per day and a plateau production of 50,000bpd at full capacity. She added that 1000 barrels per day crude oil topping plant to produce diesel have also being completed and commissioned by an indigenous oil company.
Speaking on the transparency and accountability principle of the present administration, Alison-Madueke said the petroleum ministry has set up four Special Task Forces, headed by eminent Nigerians, to address critical issues in the sector.
"In support of the Nigerian Petroleum Development Company (NPDC), a subsidiary of the Nigerian National Petroleum Corporation (NNPC) the federal government has approved the assignment of 55 per cent equity stake in the eight blocks whose IOC's 45 per cent equity stakes were divested under the NNPC/Shell/Total/NAOC joint venture."
On the current state of the refineries, she explained that the rehabilitation of the three refineries is being pursued vigorously, saying that a major feat was achieved early this year when the fluid catalytic cracking unit (FCCU) of Kaduna Refining and Petrochemical Company (KRPC) was repaired locally and restarted after almost ten years of dormancy, thereby adding about 3 million litres to in-country production of premium motor spirit.