Wall Street Edges Up But Facebook's Decline Weighs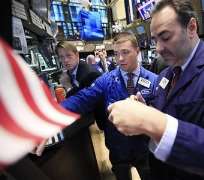 Stocks edged up on Monday from their worst weekly decline for the year as world leaders expressed support for Greece to stay in the euro zone, but gains were limited as shares of Facebook dropped more than 13 percent shortly after the open.
Facebook Inc's (FB.O) shares fell below their $38 issue price as support from underwriters of the initial public offering dissipated after its Friday debut. The stock dropped over $5 to hit a session low of $33.00 in early trading.
"It was just a poorly done deal and it just so happens to be the biggest deal ever for Nasdaq and they pooched it, that's the bottom line here," said Joe Saluzzi, co-manager of trading at Themis Trading in Chatham, New Jersey.
Facebook shares were expected to face tough trading this week if lead underwriter Morgan Stanley stops supporting the stock and managers lower down in the IPO book who were hoping for an early surge decide to get out before going underwater.
On Saturday, G8 leaders stressed that their "imperative is to promote growth and jobs" and gave verbal backing for Greece to stay in the euro. But gains were limited as the pledge was unlikely to herald quick new action from the region, meaning more uncertainly for nervous financial markets.
The Dow Jones industrial average .DJI was up 19.53 points, or 0.16 percent, at 12,388.91. The Standard & Poor's 500 Index .SPX was up 2.34 points, or 0.18 percent, at 1,297.56. The Nasdaq Composite Index .IXIC was down 1.42 points, or 0.05 percent, at 2,777.37.
Yahoo (YHOO.O) shares fell 1 percent to $15.28 after rising in premarket trade, on news that Chinese Internet entrepreneur Jack Ma is buying back up to half of a 40 percent stake in his Alibaba Group from Yahoo for $7.1 billion, in a deal that moves the Chinese e-commerce leader closer to a public listing.
The Nasdaq (NDAQ.O) said it plans to implement procedure through which the Financial Industry Regulatory Authority (FINRA) will accommodate orders not executed in Facebook during the social media company's market debut on Friday.
REUTERS