2015: JONATHAN HAS CONSTITUTIONAL RIGHT TO RUN - MBAGWU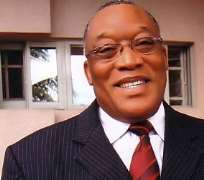 He speaks to Saturday Vanguard on 13 years of civil, controversies trailing delayed implementation of the fuel subsidy probe report, capital market probe and constitution amendment and 2015 presidential polls among others. Excerpts:
On controversies surrounding implementation of fuel subsidy probe report
The report has exposed what everybody knew all along, that people are using fuel subsidy to milk the country. The only way to fight or handle the problem is to ensure we have enough domestic refining capacity apart from prosecuting those, who were indicted. Fuel importation is inefficient and removing the inefficiency is the surest way to address the fraud. Those found wanting should be sanctioned and made to refund the huge amount.  The only fear is that corruption has a way of fighting back; the beneficiaries of this fraud will fight to ensure that the report is not implemented.
President Goodluck Jonathan should be courageous. And the people should pressure the leaders to do something.
Comments that some of those indicted may not be prosecuted because they supported the PDP in the last president election
People make statements they are not sure of. I won't like the name of the President to be dragged into it. Let's give the President time to study the report and not pre-empt what he wants to do with it.
On Capital Market probe
Nigeria is like a theatre of the absurd. It shows that corruption is not limited to the public sector; it is pervasive in the private and banking sector as well. The probe has revealed what we knew; that the banking sector is almost irrelevant to the common man. The banking sector has deviated from its primary responsibility of driving the economy.
Bankers have now developed a dangerous mercantile philosophy that is like that of the fish seller. They are mainly funding importation and thereby contributing to the weak exchange rate of the Naira. Without Lamido Sanusi''s intervention the banking sector could have collapsed.
On the way out
In our circumstances, it is naive to leave the economy completely to the dictates of market forces. Banks pay little or nothing (1 to3 per cent) on savings but are charging 25 per cent on loans. So they are neither encouraging savings mobilisation nor productivity.
We need to re-engineer the 'banking DNA' in Nigeria. What we are doing is not
banking.
On removal of immunity clause
The 1999 constitution is a fraud. It was written by the military, kept a secret and handed to the incoming civilian regime without a referendum. People were not consulted. The entire document is a fraud. Some of the provisions are anti-people. The immunity clause is one of them. Why will someone ask for immunity if he has done nothing wrong?
The immunity clause is proving a haven for leaders to milk the nation dry.
In most states you cannot see the evidence of all the funds being collected from the centre. Where did the funds go if not into private pockets? The Ibori case has shown the true face of governance in Nigeria and his case provides a strong reason for the removal of the immunity clause.
The implication of the immunity clause is if a governor commits murder he won't be tried unless he is impeached or he completes his tenure. In other countries, executives are tried for minor offences while in office. There was no immunity clause in the previous constitutions except in the 1999 Constitution written by the military.
Cliff Mbagwu
The security vote is also a fraud. It allows some individuals to draw huge funds they don't account for. Some governors take between N700 million to N1billion monthly as security votes while the people wallow in abject poverty. These are areas of the constitution that need to be looked at. My fear however, is that the greatest obstacle to change are those benefiting from the status quo.
Derivation should also be looked into. Much as I don't believe in 50 per cent derivation, 13 per cent is too small. I think 25 per cent is ideal to enable all parts of the country to have funds to develop and the oil producing states to have enough funds to take care of the environmental problems of oil production. This is a federation; we need to be our brother's keeper. Those who are saying that 13 percent is too high are not being realistic. They are entitled to their opinion but I think such comments are essentially driven by empathy deficit and warped thinking.
On gains of civil rule 13 years after
The fact that people are choosing those who govern them is a significant achievement. The worst civilian regime is better than the best military rule. But our leaders must improve on governance because 13 years into civil rule, most people in government are there for themselves irrespective of political party. They are not driven by the urge to render service or improve on the fortunes of their people. We don't seem to have people like Azikiwe, Awolowo, Aminu Kano, Ahmadu Bello, M.I Okpara, Mbakwe, etc. Even in the South-West, those who are claiming to follow Awolowo are only copying his eye glass. They seem to be pretenders.
Politicians should do more than they are doing now. There is no internal democracy in most parties. It is hard to find politicians, who want to put up people based on merit. Most of them are not committed to any principle or ideology.
We have to look at the cost of governance. Our type of democracy is too expensive to be useful to the people. At the end of the day, nothing is left to provide democracy dividends.
If 13 years of civil rule is measured by its impact on the welfare of the people, then it would be safe to say that it has failed. Majority of the people are subjected to massive deprivation. Don't mind the flashy cars on the roads. Most of them are proceeds of fraud and embezzlement. You cannot use the cars to measure the welfare of the majority because they are driven by two per cent of the population.
But if the measure is in the number of over-fed government officials and houses and hotels built with graft money, then you can say we are making progress.
Will it continue like this?
I don't think things will continue like this. There will be an improvement naturally. To move forward, we have to address two problems: corruption and the culture of exclusion. The winner-takes-all mentality must give way. The culture of exclusion is not compatible with peace and stability. When the majority of the people are excluded, a lot of people are left with no option than crime.
Let's return to the era of competition and merit where anybody, who satisfies set standards and qualifies for a position or contract, gets it. The winner-takes-all mentality is leading to criminality. People are deprived of economic opportunities because they don't belong to ruling political parties or know people in government, etc. There is no due process.
There can't be peace in an atmosphere of injustice and deprivation. We are courting disaster without fair-play and justice. Irrespective of the number of armored cars and policemen you surround yourself with you cannot have peace in a country riddled with injustice, inequity and deprivation.
Boko Haram as fall out of poverty
Poverty must be part of  it. Boko Haram is a phenomenon. But we have individuals, who are being used to drive the phenomenon. If we have less deprivation, ignorance and poverty, it could perhaps be possible to reduce the number of people, who could be recruited for Boko Haram's activities. For a youngman to kill himself along with others shows that he has no hope for the future. We must admit that Boko Haram is not entirely religious. It is also political. The cars, machines, guns and bombs being used are bought by individuals - politicians.
My worry is that the movement is not ideologically driven. When they bomb okada riders in Kano and shoot cattle traders in Yobe and kill Igbo traders in Borno State, I begin to wonder if they really know who their real enemies are. These are ordinary Nigerians, who are trying to survive the hard times. What this shows is that this group is being tele-guided by a section of the political elite to achieve a particular purpose best known to them. If the several levels of government in those areas provide jobs, more economic opportunities, facilities, etc, it would be easier to address the problems.
On FG negotiating with Boko Haram
If they are asking for improved governance in their areas, what governance should deliver that are not being delivered, then government should listen to them because governance has failed in most parts of the country particularly in the North. Nobody can contest this with 9.5 million Amajiri children roaming the streets of the North.
If there is anything government should do, it is to listen to them to see if they have superior ideas about how their region can be governed. The government should, however, not do anything that would amount to compensating violence as it could embolden other people to engage in violence because we have a multi-religious society. We should not create a situation that will make terrorism attractive.
On Jonathan and 2015 election
Jonathan has a constitutional right to run for second term. But whether he becomes president again depends on the millions of votes of Nigerians. So, the first thing he should do is to deliver democracy dividends to these millions of people from all over the country because his was the first pan-Nigerian mandate.
In the face of odds, President Jonathan is doing his best. We had military rule for 30 years, an era that is regarded as the period of the locusts when not a single power plant was built and what was on ground was destroyed. The Obasanjo and Jonathan's regimes have done well given where we are coming from. Nigerians are distracting Jonathan by
talking about 2015 now. Those saying he cannot run on moral grounds are funny. What bothers me is that people re-draw the boundaries of morality to suit their interests.
The Jonathan presidency cannot be seen as depriving anybody of his right. He was vice president. When his principal died, it was natural that zoning swung to his zone-South-South. Nothing in the PDP zoning formula says power must remain in one zone for eight years. It provides for power rotation between North and South. Since Alhaji Umaru Musa Yar'Adua died, it is not expected that zoning will remain static, it must swing.
The PDP did not prevent two northerners from running against Obasanjo in 2003 for the PDP presidential ticket when he aspired for second term. If they won, they could have become PDP candidates. So zoning is not for eight years, otherwise those northerners would not run against Obasanjo at the PDP primaries.
Even those, who are in a hurry to intimidate the President out of running for second term, will they agree to do one term if they become president?
Atiku, Babangida, Buhari promised to do one term, if elected
They were not elected, moreover, it is their choice. If Jonathan wants to do one term, let it be his choice.