Once a trailer driver, now a movie star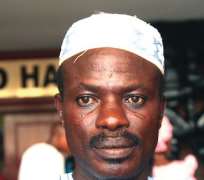 GBENGA ADENIJI engages incantation-chanting actor, Tajudeen Oyewole (Abija), on his 40 years adventure in the entertainment industry

FOUR decades ago, movie superstar, Tajudeen Oyewole, popularly called Abija, was an enterprising driver of commercial buses and trailers in Osogbo and Port Harcourt – Osun and Rivers states respectively.

He was so adept at the job that he was sure that a future awaited him in the trade. But fate ruled otherwise; he was to leave driving for acting.

According to the artiste who hails from Osogbo, the town famous for the Osun Osogbo Festival and several top artistes it produced, as soon as he strayed onto the stage, it took no time for him to abandon driving for commercial purposes.

He discloses, ''I was with Chief Akin Ogungbe for four years before I went to Port Harcourt in 1972 to continue my job as a driver. I was driving commercial buses there until I decided to return to Osogbo to drive trailers. I was still engaged in driving when the late Alhaji Yekini Ajileye came with Opa Aje. Before this time, some friends and I were producing a Yoruba series for NTA Akure. I eventually participated in the movie – Opa Aje – which made me popular."

Why the appelation Abija? He notes, "Abija-wara-bi-ekun is just one of the names given to characters in the movie. I played the character Abija and I think it was the part that made people interested in me."

He also says he feels happy any time people see him and acknowledge his stage and screen antics by calling him Abija.

''I usually feel happy each time people see me on the road and greet me, calling me 'Abija'. It shows that they recognise me and the role I played in the epic movie. There is one thing I know: I could not have received such recognition If I were still clutching at the steering wheel of trailers and shouting at the next vehicle to make way for me.''

The artiste, who states that he has one wife, discloses that he lost his second wife in 1993.

Although acting has bestowed fame on him, it has also presented challenges one time or the other. For instance, Abija, the proverbial lion on the stage, who can bring down a mountain with a blast of incantation, now limps. This is as a result of an accident he had with his Toyota Camry in 2007 – at Idiroko, Ogun State, while returning from location where he had gone to shoot his yet-to-be released film, Ibinu Abija ( Abija's fury). He has also produced movies such as Aji Perin, Ija Eleye, Omo Eleye and Orikunkun.

Though three of his children are ready to ply his trade, the dramatist states that he is not encouraging them at the moment because he wants them to focus on their education first.

He adds, ''If I were not into acting I would have ended up as a herbalist. I want them to take after me but I want them to face their education first so that they can make huge success out of the profession."

Disclosing that he is the 11th child of his father, Abija laments that many of yesteryear superstars have been abandoned.

He notes that attention have shifted to current movie stars without remembering the fact that they had done their best in the past too.

''Many of us have been used and dumped. Most times we dread the future. Those who are reigning actors and actresses are the ones we give honour to in the industry, whereas those who had paid their dues are no longer recognised," he states.

He, however, appeals for unity among practitioners in the industry especially among the leadership so as to encourage those coming behind.

On his skilful use of incantation in movies, Abija says his grandfather and father were successful herbalists. ''I just discovered that I know how to chant incantation very well,'' he says.