WHY WE NEED MORE MONEY IN ABIA - MGBEMENA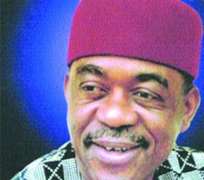 BY ANAYO OKOLI
SIR Pat Mgbemena is the Special Adviser to Governor Theodore Orji of Abia State on Project Monitoring and Implementation. In this interview, he chronicles the state administration's efforts in boosting infrastructure in the state and gives reasons why the government is also seeking external sources of funding for some projects. Excerpts:
THE administration has embarked on road construction and rehabilitation of existing roads especially in Aba. But  how do you plan to maintain them to last?
There is a map of the drainage system in the city and all of them are being de-silting and we hope to ensure that no refuse are dumped in to the drainages again. We have being educating Aba residents on the need to ensure that the drainages are free to enhance free flow of flood to keep the city clean.
Apart from roads, which other areas is the government working on?
Governor T.A. Orji is in a hurry to develop Abia state. He has embarked on the construction of an International Conference Centre; there is a twin secretariat for civil servants, which is nearing completion and rehabilitation of the old one.
New office block complexes are being built for the Judiciary, the state radio station, and the health sector has witnessed the greatest infrastructural revolution.  Abia is best described as a health tourism centre. These things are there to be seen not mirage. We are relocating two markets to two new international standard markets we are building.
Gov. Theodore Orji of Abia State
At the Ubani Ibeku market where the present Umuahia Central Market will move to, we already have over 3500 shops ready and the target is 7300 shops. At the Industrial market, we have 1500 shops ready and the target is 5000 shops. We are also relocating mechanics and the luxury bus parks in Umuahia to Oyiha.
You are aware that water does not run in Umuahia, the capital city and of course in Aba, the commercial city. What is the plan of the Government to see that potable water runs in these cities?
We are working assiduously to see that water runs in these towns. We have concluded arrangement for the Federal Government to take over the Aba Regional Water Scheme and this we hope would fasten the provision of water to the commercial city. For the Umuahia Regional Water Scheme, the problem was that construction companies damaged the pipes. The government is replacing them. Even some pipes were cut and people built on them. We are repairing them and water would soon run in Umuahia.
Umuahia as a state capital is expanding and more people are coming in to settle there. This is stretching the existing accommodation in the city and it is evident on the ever increasing house rents, does the government have any plan to tackle this?
Oh yes, we have. We are doing a lot in the housing sector. We have the Amuba Housing Estate, where we already have about 100 units out of the 300 units target ready. They are made up of low and medium units.  At the Isieke Housing Estate, we have 25 Duplexes for the legislators. Our target here is 1500 and we have got 60 units to roofing level.
The government uses local contractors for most of its projects. What informed this decision?
Yes, it is deliberate. The local contractors go to site when you want them without waiting for mobilization. Foreign contractors demand 40 per cent mobilization. We brought a foreign contractor to Aba. They demanded 40 per cent mobilization of the contract sum before they could move their equipment to site.
The cost of the four roads was N9 billion and they wanted 40 per cent which is about N3.5 billion which we would use to do some roads. They are very expensive. By engaging local contractors we are empowering them and they are engaging our youths in their sites.
The state said it has no money, how do you people get funds for all the projects you have enumerated?
The governor is a very prudent manager. He manages the meager resources available very well. We have not borrowed any money from any bank. But we are still looking for where to borrow because we still have a lot of projects to do.